1999 United States Stamp Schedule
the Virtual Stamp Club
As of September 22, 1999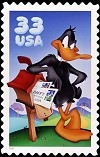 This schedule represents the latest information from a variety of sources, as well as our best guesses. The information is subject to change, and no responsibility is taken for errors, omissions or changes.
Updates appear first in the Forum's Message Board.
Please visit the US 1999 Stamp Gallery to view images of these Stamps.
© 1999 de Vries Philatelic Media



---


DATE          DETAILS                   


---


Jan  5   33¢  Year of the Hare - Pane/20 - Los Angeles 
                90001 - Sc. 3272
Jan 11   33¢  Flag envelopes - DC 20066 - Sc. U642-3
Jan 20   33¢  Malcolm X - Pane/20 - NYC 10199 - Sc. 3273
Jan 28   33¢  Victorian Love - Conv Bklt 20 - 
                 Loveland, CO 80538 - Sc. 3274
Jan 28   55¢  Victorian Love - Conv Bklt 20 - 
                 Loveland, CO  80538 - Sc. 3275
Jan 28   33¢  Love envelope - Loveland, CO  80538 - 
                 Sc. U644
Jan 28   20¢  Victorian Love postcards - 
                 Loveland, CO  80538 - Sc. UX300
Feb  5   20¢  U of Wisconsin - postcard - Wisconsin only 
                 Madison, WI  53714 - Sc. UX301
Feb  9   33¢  Hospice Care - pane/20 - nationwide - 
                 Largo, FL 34640 - Sc. 3276
Feb 11   20¢  Wash & Lee Univ - postcard - Virginia only - 
                 Lexington, VA 24450 - Sc. UX302
Feb 18   33¢  Celebrate the Century:1940s - CTC pane/15 - 
              nationwide FD - Dobbins Air Force Base, 
                 GA 30069 - Sc. 3186
             World War II - Sc. 3186a
             Antibiotics - Sc. 3186b
             Jackie Robinson - Sc. 3186c
             Harry S. Truman - Sc. 3186d
             Women Support War Effort - Sc. 3186e
             Television - Sc. 3186f
             Jitterbug - Sc. 3186g
             Abstract Art - Sc. 3186h
             GI Bill - Sc. 3186i
             Big Band Sound - Sc. 3186j
             Intl Style Architecture - Sc. 3186k
             Baby Boom - Sc. 3186l
             Slinky - Sc. 3186m
             "Streetcar Named Desire" - Sc. 3186n
             "Citizen Kane" - Sc. 3186o
Feb 22   33¢  Official Mail envelope - DC 20066 - Sc. UO89
Feb 25   33¢  City Flag - various formats - @AMERICAS '99 - 
                 Orlando, FL 32862 - Sc. 3277, 3280-2
Feb 26   33¢  Irish Immigration - pane/20 - Nationwide FD; 
                 joint with Ireland - Boston 02205 - 
                 Sc. 3286
Mar  2   33¢  Alfred Lunt & Lynn Fontanne - pane/20 - 
                 @Lunt-Fontanne Theater - NYC 10199 - 
                 Sc. 3287
Mar 11   33¢  Redwood Library - postcard - 
                 Newport, RI 02840 - Sc. UX303
Mar 12   33¢  Arctic Animals - pane/15 - Barrow, AK 99723 
                 Sc. 3288-92
Mar 13   33¢  Classroom Flag - ATM stamp - @Garfield-Perry  
                 Cleveland - Sc. 3283
Apr  6   33¢  Sonoran Desert - pane/10 - Tucson, AZ 85726 
                 Sc. 3293
Apr 10   33¢  Berries - coil, bklet/20 - Ponchatoula, 
                 LA 70454 - Sc. 3294-3305
Apr 16   33¢  Daffy Duck - pane/10 - LA 90001
Apr 22   33¢  Ayn Rand - pane/20 - NYC 10199
Apr 27   33¢  Cinco de Mayo - reissue - 
                 San Antonio, TX 78284
May  1   33¢  Tropical Flowers - pane/20 - Honolulu 96820
May 12   48¢  Niagara Falls - pane/20 - 
                 Niagara Falls, NY 14302
May 14   20¢  Mt Vernon Estate & Gardens - postcard - 
                 Mt. Vernon, VA 22121
May 15   60¢  Voyageurs Natl Park - aerogramme - nationwide 
                 Denver 80202
May 15   55¢  Mt. Rainier - postcard - nationwide - 
                 Denver 80202
May 18   33¢  John & William Bartram - pane/20 - 
                 Philadelphia 19104
May 26   33¢  Celebrate the Century: 1950s - 
              nationwide release - Springfield, MA 01101
                1951 Baseball Play-off
                3-D Movies
                "The Cat in the Hat"
                Drive-In Movies
                "I Love Lucy"
                Korean War
                Rocky Marciano
                Victory Over Polio
                Rock 'n Roll
                Satellites
                School Desegregation
                Stock Car Racing
                Subway Series: Dodgers/Yankees
                Tail Fins & Chrome
                Teen Fashions
May 28   33¢  Prostate Cancer Awareness - Austin, TX 78710
Jun  5   33¢  Lincoln envelope - #10 envelope - 
                 Springfield, IL 62703
Jun 18   33¢  California Gold Rush - pane/20 - 
                 Sacramento 95813
Jun 22    2¢ Woodpecker - coil/10,000 - DC 20066
Jun 24   33¢  Aquarium Fish - 4 designs, PSA pane/20 - 
                 @Mega-Event, nationwide issuance - 
                 Anaheim, CA 92803
Jun 25   33¢  Xtreme Sports - 4 designs, PSA pane/20 - 
                 @X Games - SF 94188
Jun 29   33¢  American Glass - 4 designs, pane/15 - 
                 @Corning Glass Museum - Corning, NY 14830
Jun 30   $15  Duck Stamp: Greater Scaup - pane/30 - 
                 Interior Dept, not USPS - 
                 Natl Postal Museum, DC
Jul 17   55¢  Justin S. Morrill - PSA pane/20 - 
                 Strafford, VT 05072
Jul 22   33¢  James Cagney - pane/20 - Burbank, CA 91505
Jul 24   20¢  Block Island Lighthouse - 20¢ postal cards - 
                 Block Island, RI 02807
Jul 30   40¢  Rio Grande - PSA pane/20 - @NTSS, nationwide 
                 Milwaukee 53203
Jul 30   55¢  Gen. Billy Mitchell - PSA pane/20 - 
                 @NTSS, nationwide - Milwaukee 53203
Aug 13   33¢  Coral Rose - PSA, books/15 and 20 - 
                 @AMERICOVER '99 - Indianapolis, IN 46206
Aug 16   33¢  Those Who Served - PSA pane/20 - 
                 @VFW convention; nationwide 
                 Kansas City, MO 64108
Aug 25   45¢  Universal Postal Union - Beijing, China 
                 (cancellation requests to KC 64144)	 
Aug 26   33¢  All Aboard! Streamlined Trains - pane/20 - 
              @STAMPSHOW '99; nationwide - 
              Cleveland 44101
Sep 12   33¢  Frederic Law Olmsted - pane/20 - 
                 Boston 02205
Sep 16   33¢  Hollywood Composers - 6 designs; pane/20 - 
                 LA 90001
Sep 17  33¢  Celebrate the Century: 1960s - pane/15 - 
              nationwide release - Green Bay, WI 54303 
                Barbie
                Beatles
                Computer Chip
                Ford Mustang
                Green Bay Packers
                Lasers
                Maris Breaks HR Record
                MLK's "I Have A Dream" Speech
                Moon Landing
                Peace Corps
                Peace Symbol
                Star Trek
                Super Bowl
                Vietnam War
                Woodstock				 
Sep 21   33¢  Broadway Songwriters - 6 designs, pane/20 - 
                 NYC 10199
Oct  1   33¢  Insects & Spiders - 20 designs; pane/20 - 
                 nationwide release - Indianapolis 46206
Oct  8   33¢  Hanukkah - PSA pane/20 - DC 20066
Oct. 8   33¢  Penalty Mail - Washington, DC 20066 
                 (no ceremony)
Oct 13   33¢  NATO -  Brussels, Belgium				 
Oct 20   33¢  Deer (not Reindeer!)-PSA pane/20 + books/15,20
                 Rudolph, WI 54475
Oct 20   33¢  Religious Christmas - PSA book/20 - 
                 Bartolomeo Vivarini painting - DC 20066
Oct 29   33¢  Kwanzaa - PSA pane/20 - LA 90001
Nov 18   33¢  Celebrate the Century: 1970s - pane/15 - 
              nationwide - NYC Mega Event
                "All in the Family"
                Bicentennial
                Disco
                Earth Day
                Fashion
                Jumbo Jets
                Medical Imaging
                "Monday Night Football"
                Pioneer 10
                Pittsburgh Steelers
                Secretariat
                "Sesame Street"
                Smiley Face
                VCRs
                Women's Rights
Nov 19   1¢   Kestrel NYC Mega Event				

The following stamps and stationery are possible in 1999:
         22¢  Uncle Sam - coil/3000  
         40¢  Block Island Lighthouse - 40¢ postal cards
              Linerless Coils 
              Blue Train - non-profit envelope 
              Audie Murphy 
         20¢  Gen. Joseph Stillwell - Great Americans stamp
              Edna Ferber 

Return to 1999 Index

---
Virtual Stamp Club Home Page