the Virtual Stamp Club
1998 U.S. Stamp Schedule
October 22, 1998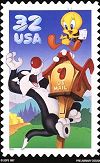 This schedule represents the latest information from a variety of sources, as well as our best guesses. The information is subject -- expected! -- to change.
Updates appear first in the Forum's Message Board.
Please visit the US Stamp Gallery to view images of these Stamps.
© 1998 de Vries Philatelic Media

---


DATE          DETAILS                           


---


Jan  5   Year of the Tiger Pane/20       #3179    #CM1964
Jan 22   Winter Sports/Skiing  Salt Lake City
                                         #3180    #CM1965
Jan 28   Madam C.J. Walker  Indianapolis 46206  self-ad/20
                                         #3181    #CM1966
Feb  3   Celebrate the Century: 1900s DC 20066
               15-stamp sheet            #3182    #CM1967
           Model T Ford - 1900s          #3182a   #CM1967a
           Theodore Roosevelt - 1900s    #3182b   #CM1967b
           "Great Train Robbery" - 1900s #3182c   #CM1967c  
           Crayola Crayons - 1900s       #3182d   #CM1967d
           St. Louis World's Fair-1900s  #3182e   #CM1967e  
           Pure Food & Drug Act - 1900s  #3182f   #CM1967f
           First Flight - 1900s          #3182g   #CM1967g
           Ash Can School of Art-1900s   #3182h   #CM1967h
           Immigrants - 1900s            #3182i   #CM1967i
           John Muir - 1900s             #3182j   #CM1967j
           Teddy Bear - 1900s            #3182k   #CM1967k
           W.E.B. Du Bois - 1900s        #3182l   #CM1967l
           Gibson Girl - 1900s           #3182m   #CM1967m
           First World Series - 1900s    #3182n   #CM1967n
           Robie House - 1900s           #3182o   #CM1967o

Feb  3   Celebrate the Century: 1910s  DC 20066  
               15-stamp sheet            #3183    #CM1968
           Charlie Chaplin - 1910s       #3183a   #CM1968a
           Federal Reserve - 1910s       #3183b   #CM1968b
           George Washington Carver-1910 #3183c   #CM1968c
           Armory Show - 1910s           #3183d   #CM1968d
           Transcontinental Telephone Line - 1910s
                                         #3183e   #CM1968e
           Panama Canal - 1910s          #3183f   #CM1968f
           Jim Thorpe - 1910s            #3183g   #CM1968g
           Grand Canyon - 1910s          #3183h   #CM1968h
           World War I - 1910s           #3183i   #CM1968i
           Scouting - 1910s              #3183j   #CM1968j
           Woodrow Wilson - 1910s        #3183k   #CM1968k
           Crossword Puzzle - 1910s      #3183l   #CM1968l
           Jack Dempsey - 1910s          #3183m   #CM1968m
           Construction Toys - 1910s     #3183n   #CM1968n
           Child Labor Laws - 1910s      #3183o   #CM1968o

Feb 15   "Remember the Maine"  Key West, FL
                                         #3192    #CM1969
Mar 19   Flowering Trees  NYC@Mega Event #3197a   #CM1974a
Mar 25   Alexander Calder  DC            #3202a   #CM1979a
Apr  3   Henry R. Luce  NYC 10199  Great Americans
                                         #2935    #1168
Apr 16   Cinco de Mayo  San Antonio 78284    
           Joint issue with Mexico       #3203    #CM1980
Apr 20   UMiss  University, MS  postal card
                                         #UX290   #PC285
Apr 27   Tweety & Sylvester  NYC 10199   #3204    #CM1981
Apr 27   Tweety & Sylvester  NYC 10199  die-cut sheet
                                         #3205    #CM1982
Apr 27   Tweety & Sylvester postcards  NYC 10199  postal card
                                         #UX291   #PC286
May  1   Girard College  Philadelphia 19104  postal card
                                         #UX292   #PC287
May 28   Celebrate the Century  Chicago 60607
                                         #3184    #CM1983
           Babe Ruth                     #3184a   #CM1983a
           Gatsby Style                  #3184b   #CM1983b
           Prohibition Enforced          #3184c   #CM1983c
           Electric Toy Trains           #3184d   #CM1983d
           Women's Suffrage              #3184e   #CM1983e
           Emily Post                    #3184f   #CM1983f
           Margaret Meade                #3184g   #CM1983g
           Flappers/Charleston           #3184h   #CM1983h
           Radio Entertainment           #3184i   #CM1983i
           Art Deco                      #3184j   #CM1983j
           Jazz Flourishes               #3184k   #CM1983k
           Four Horsemen of ND           #3184l   #CM1983l
           Charles Lindbergh             #3184m   #CM1983m
           American Realism              #3184n   #CM1983n
           Stock Market Crash            #3184o   #CM1983o

May 29   Wisconsin Statehood  Madison 53707
                                         #3206    #CM1984
Jun  5   Wetlands  McLean VA 22101  non-denom coil
                                         #3207    #1169
Jun  5   Diner  McLean VA 22101  non-denom coil
                                         #3208    #1170
Jun 18   Trans-Mississippi  Anaheim, CA @Mega Event
                                         #3209    #CM1985
Jun 18   $1 Trans-Mississippi  Anaheim, CA @Mega Event
                                         #3210    #CM1986
Jun 26   Berlin Airlift  Berlin, Germany #3211    #CM1987
Jun 26   Folk Musicians  DC 20066        #3212-5  #CM1988-91
Jul 11   Southwest Settlement  Espanola, NM 87532
                                         #3220    #CM1992
Jul 15   Gospel Music  New Orleans 70113 #3216-9  #CM1993-6
Jul 16   Lila & DeWitt Wallace  Pleasantville, NY 10570
          Great Americans                #2936    #1171
Jul 22   Steven Vincent Benet  Harpers Ferry, WV 25425
                                         #3221    #CM1997
Jul 29   Tropical Birds  Ponce, PR 00717 #3222-5 #CM1999-2001
Jul 29   Breast Cancer  DC 20066  surcharged semi-postal
                                         #B1      #CMSP1
Jul 29   Tropical Birds  Ponce, PR 00717  postcards
                                         #UX293-6 #PC288-91
Jul 31   Ring-Necked Pheasant  Somerset, NJ  
            self-stick coil, booklet     #3050,055 #1172-3
Aug  3   Alfred Hitchcock  Los Angeles 90001
                                         #3226    #CM2002
Aug  5   Organ & Tissue Donations  Columbus, OH 43216
          w/US Transplant Games          #3227    #CM2003
Aug 14   Red Fox                         #        #1174
Aug 14   Green Bicycle coils             #        #1175-6
Aug 20   Bright Eyes (Pets) Boston 02205 #3230-4  #CM2004-8
Aug 21   Klondike Gold Rush  Nome, AK 99762
                                         #3235    #CM2009
Aug 27   American Art  Santa Clara CA 95050@APS
                                         #3236    #CM2029y

Sep 10   Celebrate the Century  Cleveland 44101
                                         #3185    #CM2030
           Franklin Roosevelt            #3185a   #CM2030a
           Empire State Building         #3185b   #CM2030b
           Life Magazine                 #3185c   #CM2030c
           Eleanor Roosevelt             #3185d   #CM2030d
           New Deal                      #3185e   #CM2030e
           Superman                      #3185f   #CM2030f
           Household Appliances          #3185g   #CM2030g
           Disney's "Snow White"         #3185h   #CM2030h
           "Gone With The Wind"          #3185i   #CM2030i
           Jesse Owens                   #3185j   #CM2030j
           Streamlined Design            #3185k   #CM2030k
           Golden Gate Bridge            #3185l   #CM2030l
           Great Depression              #3185m   #CM2030m
           Bobby Jones                   #3185n   #CM2030n
           Monopoly                      #3185o   #CM2030o

Sep 16   Ballet  NYC 10199               #        #CM2031
Sep 16   Ballet  NYC 10199  postal card  #        #PC292
Oct  1   Space Discovery  KSC 32899 
Oct  3   Northeastern University  Boston 02205  postal card  
Oct  7   Philanthropy  Atlanta    
Oct 15   Xmas Florentine Madonna  DC 20066    
Oct 15   Xmas Wreaths  Christmas, MI 49862    
Oct 17   Brandeis University  Waltham,MA 02254  postal card  

Nov  9   Mary Breckinridge    self-ad pane/20  
Nov  9   $3.20 Space Shuttle Landing    pane/20  
Nov  9   Weathervane "Make Up Rate" Troy NY 12180   pane/50  
Nov  9   H "Uncle Sam's Hat"  Troy NY 12180  pane/50  
Nov  9   H "Uncle Sam's Hat"  Troy NY 12180
             ATM self-stick/18  
Nov  9   H "Uncle Sam's Hat"  Troy NY 12180 bklt/10  
Nov  9   H "Uncle Sam's Hat"  Troy NY 12180 bklt/20  
Nov  9   H "Uncle Sam's Hat"  Troy NY 12180 folded bklt/20  
Nov  9   H "Uncle Sam's Hat"  Troy NY 12180 gummed coil/100  
Nov  9   H "Uncle Sam's Hat"  Troy NY 12180
             self-stick coil/100  
Nov  9   H "Uncle Sam's Hat"  Troy NY 12180
             gummed coil/3000  
Nov  9   H "Uncle Sam's Hat"  Troy NY 12180
             self-stick coil/3000  
Nov  9   Uncle Sam  DC 20066  pane/20  
Nov  9   Uncle Sam  DC 20066  coil/100  
Nov 19  $11.75 Space Shuttle Piggyback  NYC 10199    

Return to 1998 Index

---
Virtual Stamp Club Home Page