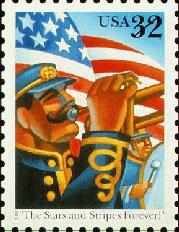 the Virtual Stamp Club
1997 U.S. STAMP SCHEDULE
As of December 3, 1997
This list represents our best guesses, information and research, drawn from a variety of sources. It is subject to change, and the Virtual Stamp Club is not responsible for errors. Follow the Links to view hi-res images of selected stamps.
---


DATE     DENOM   ISSUE                  FORMAT
    SCOTT #     ORDER #                NOTES

---



Jan  5   32c Lunar New Year / Ox        pane of 20
    Scott #3120

Jan 24       Mountain (non-denom)       3k rolls
    Scott #2904B       Notes: 5c

Jan 24   32c Flag Over Porch            self-ad vend 
    Scott #2912B                        bklt 30

Jan 24       Juke Box (non-denom)       3k rolls
    Scott #2912B       Notes: 25c

Jan 24   32c Flag Over Porch            3k rolls
    Scott #2915D

Jan 24   32c Flag Over Porch            self-ad vend 
    Scott #2921b                        bklt 15

Jan 28   32c Benjamin O. Davis, Sr.     self-ad pane/20
    Scott #3121

Feb  1   32c Statue of Liberty          self-ad bklt 15
    Scott #3122                      no ceremony

Feb  1   32c Statue of Liberty          self-ad bklt 30
    Scott #3122                      no ceremony

Feb  1   32c Statue of Liberty          self-ad convert
                                        bklt 20
    Scott #3122a                     no ceremony

Feb  4   32c Love Swans                 self-ad bklt 20
    Scott #3123

Feb  4   55c Love Swans                 self-ad bklt 20
    Scott #3124

Feb  4   20c Love Swans Postcards       set of 8 designs
    Scott #UX279

Feb 18   32c Helping Children Learn     Pane of 20
    Scott #3125

Mar  3   32c Merian Botanical Prints    2 designs;
                                        self-ad bklt/20
    Scott #3126-7                  pineapple & citron

Mar  3   32c Merian Botanical Prints    2 designs;
                                        self ad bklt/15
    Scott #3128-9                   pineapple & citron

Mar 13   32c PACIFIC 97                 First Triangular
                                        Stamps
    Scott #3130-1                   clipper ship, stagecoach

Mar 14       Juke Box (non-denom)       linerless coils/
                                        10k, 30k
    Scott #3132       Notes: 25c

Mar 14   32c Flag Over Porch            linerless coil/100
    Scott #3133

Apr 17   32c Thornton Wilder            Pane of 20
    Scott #3134                     centennial

Apr 24   32c Raoul Wallenberg           Pane of 20
    Scott #3135                     @Holocaust Museum

May  1   32c World of Dinosaurs         Sheet of 15
    Scott #3136                    by Dinotopia artist

May  7   20c City College of NY         postal card
    Scott #UX280

May 22   32c Bugs Bunny                 classic/10
    Scott #3137a                   @Warner Bros.

May 22   32c Bugs Bunny                 classic/10
    Scott #3138a                   imperf 10th stamp

May 22   20c Bugs Bunny                 postcards
    Scott #UX281                   @Warner Bros.

May 29   50c 1847 Franklin              souvenir sheet/12
    Scott #3139                    intl postcard rate

May 30   60c 1847 Washington            souvenir sheet/12
    Scott #3140                    intl letter rate

Jun  2   20c Golden Gate/Daylight       postal card
    Scott #UX282

Jun  2   50c Golden Gate/Sunset         postal card
    Scott #UX283

Jun  5   32c Marshall Plan              Pane of 20
    Scott #3141

Jul 19   32c American Aircraft          Classic/20
    Scott #3142

Jul 25   32c Football Coaches           4 designs on sheet
    Scott #3143-46

Jul 28   32c American Dolls             Classic/20
    Scott #3151

Jul 31   32c Humphrey Bogart            Classic/20
    Scott #3152

Aug  1   32c Yellow Rose coil           coil
    Scott #3054                     @AMERICOVER 97

Aug  5   32c Vince Lombardi             single design/
                                        pane of 20
    Scott #3147

Aug  7   32c Bear Bryant                single design/
                                        pane of 20
    Scott #3148

Aug  8   32c Pop Warner                 single design/
                                        pane of 20
    Scott #3149

Aug 16   32c George Halas               single design/
                                        pane of 20
    Scott #3150

Aug 21   32c "Stars & Stripes Forever!" pane/50
    Scott #3153                     @STAMPSHOW 97,
                                    APS convention

Sep  7   20c Fort McHenry               postal card
    Scott #UX284                    Founders Day

Sep 10   32c Opera Singers              Block of 4
    Scott #3154-7

Sep 10   32c Lily Pons                  Block of 4
    Scott #3154

Sep 10   32c Richard Tucker             Block of 4
    Scott #3155

Sep 10   32c Lawrence Tibbett           Block of 4
    Scott #3156

Sep 10   32c Rosa Ponselle              Block of 4
    Scott #3157

Sep 12   32c Composers & Conductors     Block of 8
    Scott #3158-65

Sep 12   32c Leopold Stokowski          Block of 8
    Scott #3158

Sep 12   32c Arthur Fiedler             Block of 8
    Scott #3159

Sep 12   32c George Szell               Block of 8
    Scott #3160

Sep 12   32c Eugene Ormandy             Block of 8
    Scott #3161

Sep 12   32c Samuel Barber              Block of 8
    Scott #3162

Sep 12   32c Ferde Grofe                Block of 8
    Scott #3163

Sep 12   32c Charles Ives               Block of 8
    Scott #3164

Sep 12   32c Louis Moreau Gottschalk    Block of 8
    Scott #3165

Sep 15   32c Felix Varela               pane/20
    Scott #3166                     Hispanic Heritage

Sep 18   32c Air Force 50th Anniv       pane/20
    Scott #3167                     Nationwide FD

Sep 30   32c Chaney/Phantom             Strip of 5
    Scott #3168       

Sep 30   32c Movie Monsters             Strip of 5
    Scott #3168-3172       

Sep 30   32c Lugosi/Dracula             Strip of 5
    Scott #3169       

Sep 30   32c Karloff/Frankenstein       Strip of 5
    Scott #3170       

Sep 30   32c Karloff/Mummy              Strip of 5
    Scott #3171       

Sep 30   32c Chaney Jr/Wolf Man         Strip of 5
    Scott #3172       

Oct 14   32c Supersonic Flight          Self-Adh/20
    Scott #

Oct 18   32c Women in the Military      pane/20
    Scott #

Oct 22   32c Kwanzaa                    self-adh/50
    Scott #

Oct 27   32c Madonna & Child            self adh/20
    Scott #

Oct 30   32c American Holly             self-ad bklt/20
    Scott #                         @Mega Event

Oct 30   32c American Holly             self-ad bklt/30
    Scott #                         @Mega Event

Oct 30   32c American Holly             self-ad bklt/15
    Scott #                         @Mega Event

Dec 10 $3.00 Mars Pathfinder            souv sheet of 1
    Scott #                         @JPL


Return to Top of Page

© 1997 by de Vries Philatelic Media



---
Virtual Stamp Club Home Page