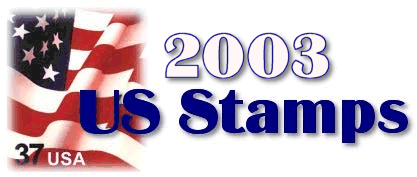 2003 United States Stamp Schedule
The Virtual Stamp Club
As of July 1, 2007
This schedule represents the latest information from a variety of sources, as well as our best guesses. The information is subject to change, and no responsibility is taken for errors, omissions or changes. Click any stamp links to see a picture of the stamp.
FORMAT FOR THE LISTING IS AS FOLLOWS:
Link to image
Date
Description (click on stamp name to go to discussion)
Format
First Day Mailing Address
City, State ZIP
USPS order number(s)
and Scott Number(s)
---
January 7
37¢ Thurgood Marshall
Black Heritage Series
PSA pane of 20
POSTMASTER
SPECIAL CANCELLATIONS
PO BOX 92282
WASHINGTON DC 20090-2282
USPS #: 453840 (pane of 20)
Scott #: 3746
---
January 15
37¢ Year of the Ram
Lunar New Year series
PSA pane of 20
POSTMASTER
433 W HARRISON ST 4TH FL
CHICAGO IL 60607-9611
USPS #: 453740 (pane of 20)
Scott #: 3747
---
January 24
37¢ Zora Neale Hurston
Literary Arts Series
PSA pane of 20
POSTMASTER
151 N MAITLAND AVE
EATONVILLE FL 37251-9991
USPS #: 454240 (pane of 20)
Scott #: 3748
---
January 24
10¢ American Clock
American Design Series
PSA pane of 20
POSTMASTER
1501 S CHERRYBELL STRA
TUCSON AZ 85726-9731
USPS #: 108040 (pane of 20)
Scott #: 3757
---
January 25
37¢ Nurturing Love env.
#10 and 6 3/4 stamped envelopes
POSTMASTER
1501 S CHERRYBELL STRA
TUCSON AZ 85726-9731
USPS #: 205540 (#10 envelope)
265540 (#6 3/4 envelope)
Scott #: U651
---
February 4
37¢ American Flag
PSA ATM pane of 18
POSTMASTER
SPECIAL CANCELLATIONS
PO BOX 92282
WASHINGTON DC 20090-2282
USPS #: 562640 (pane of 18)
Scott #: 3637
---
February 4
(10¢) New York Public Library Lion (non-den. presort std.)
PVA coil of 500 and 3,000
POSTMASTER
SPECIAL CANCELLATIONS
PO BOX 92282
WASHINGTON DC 20090-2282
USPS #: 781640 (coil of 500)
781740 (coil of 3,000)
Scott #: 3769
---
February 13
80¢ Special Olympics
International Mail Letter Rate
PSA pane of 20
POSTMASTER
433 W HARRISON ST 4TH FL
CHICAGO IL 60607-9611
USPS #: 564140 (pane of 20)
Scott #: 3771
---
February 25
37¢ American Filmmaking:
Behind the Scenes
Featuring: Art Direction, Costume Design, Camera, Direction, Editing, Make-up, Music, Screenwriting, Sound Effects, and Special Effects
PSA pane of 10
POSTMASTER
325 N MAPLE DR
BEVERLY HILLS CA 90210-9991
USPS #: 563840 (pane of 10)
Scott #: 3772
a. Screenwriting
b. Directing
c. Costume design
d. Music
e. Makeup
f. Art direction
g. Cinematography
h. Film editing
i. Special effects
j. Sound
---
February 28
$1.00 Wisdom
PSA pane of 20
POSTMASTER
135 MAIN ST
BILOXI MS 39530-9998
USPS #: 109640 (pane of 20)
Scott #: 3766
---
March 1
1¢ Tiffany Lamp
American Design Series
water-activated
coil of 3,000
POSTMASTER
135 MAIN ST
BILOXI MS 39530-9998
USPS #: 781540 (coil of 3,000)
Scott #: 3758
---
March 1
37¢ Ohio Statehood
Statehood Series
PSA pane of 20
POSTMASTER
40 S WALNUT ST
CHILLICOTHE OH 45601-9998
USPS #: 453940 (pane of 20)
Scott #: 3773
---
March 14
37¢ Pelican Island National Wildlife Refuge
PSA pane of 20
POSTMASTER
1290 MAIN STREET
SEBASTIAN FL 32958-9991
USPS #: 454040 (pane of 20)
Scott #: 3774
---
March 19
(10¢) Sea Coast (nonprofit rate)
PVA coil of 500 and 10,000
POSTMASTER
SPECIAL CANCELLATIONS
PO BOX 92282
WASHINGTON DC 20090-2282
USPS #: 781840 (coil of 500)
782040 (coil of 10,000)
Scott #: 3775
---
April 3
37¢ Old Glory
PSA prestige booklet of 20 and stamped card book of 20
POSTMASTER
421 EIGHTH AVE RM 2029B
NEW YORK NY 10199-9991
USPS #: 882000 (book of 20)
882066 (stamped card book of 20)
Scott #: (Booklet version, Post Card): (3776, UX390) - Uncle Sam on Bicycle; (3777, UX391) - 1888 Presidential Campaign Badge; (3778, UX392) - 1893 Silk Bookmark; (3779, UX393) - Modern Hand Fan, (3780, UX394) - Carving of Woman with Flag and Sword
---
April 23
37¢ Cesar E. Chavez
PSA pane of 20
POSTMASTER
7001 S CENTRAL AVE RM 338
LOS ANGELES CA 90052-9991
USPS #: 454140 (pane of 20)
Scott #: 3781
---
April 30
37¢ Louisiana Purchase
PSA pane of 20
POSTMASTER
701 LOYOLA AVE RM 3003
NEW ORLEANS LA 70113-9802
USPS #: 454340 (pane of 20)
Scott #: 3782
---
May 22
37¢ First Powered Flight
PSA pane of 10
POSTMASTER
302 S CROATAN HWY
KILL DEVIL HILLS NC 27948-9998

POSTMASTER
FIRST DAY CANCEL REQUEST
PO BOX 2308
DAYTON OH 45401-2308

USPS #: 563940 (pane of 20)
Scott #: 3783
---
May 30
37¢ Purple Heart
PSA pane of 20
POSTMASTER
PO BOX 9998
MOUNT VERNON VA 22121-9991
and issued nationwide
USPS #: 108940 (pane of 20)
Scott #: 3784
---
June 11
37¢ Audrey Hepburn
Legends of Hollywood Series
PSA pane of 20
w/selvage
POSTMASTER
7001 S CENTRAL AVE RM 338
LOS ANGELES CA 90052-9991
USPS #: 454740(pane of 20)
454784 Uncut Press Sheet
Scott #: 3786
---
June 13
37¢ Southeast Lighthouses
Featuring: Cape Henry Lighthouse, Virginia; Cape Lookout, North Carolina; Morris Island, SC; Tybee Island, Georgia; and Pillsboro Inlet, Florida
PSA pane of 20
w/selvage and stamped card book of 20
POSTMASTER
102 S Campbell Ave
Tybee Island, GA 31328
USPS #: 454440(pane of 20)
454466 stamped cards book of 20
Scott #:
3787, UX395 - Old Cape Henry
3788, UX396 - Cape Lookout
3788a. Bottom of "USA" even with top of upper half-diamond of lighthouse (dropped denomination)
3789, UX397 - Morris Island
3790, UX398 - Tybee Island
3791, UX399 - Hillsboro Inlet
---


June 26
(25¢) American Eagle
Featuring 10 different designs
PSA coil of 10,000 (10 different designs)
POSTMASTER
1200 FRANKLIN MALL
Santa Clara, CA 95050-9991
USPS #: 782140 (coil of 10,000)
Scott #:
3792 - gray bkgrnd & gold eagle
3793 - gold bkgrnd & red eagle
3794 - dull blue bkgrnd & gold eagle
3795 - gold bkgrnd & Prussian blue eagle
3796 - green bkgrnd & gold eagle
3797 - gold bkgrnd & gray eagle
3798 - Prussian blue bkgrnd & gold eagle
3799 - gold bkgrnd & dull blue eagle
3800 - red bkgrnd & gold eagle
3801 - gold bkgrnd & green eagle
---
July 1
$15 Snow Geese hunting permit stamp
PVA pane of 20
PSA pane of 1
WASHINGTON DC 20090-2282
USPS #: 302740 (pane of 20), 333040 (pane of 1)
Scott #: RW70, RW 70A
---
July 2
37¢ Arctic Tundra
Nature of America Series
Featuring: 10 designs
PSA pane of 10
POSTMASTER
5400 MAIL TRL
Fairbanks, AK 99709-9991
USPS #: 454540 (pane of 20)
454584 Uncut Press Sheet
Scott #: 3802 Arctic Tundra sheet
a.: 37¢ Gyrfalcon
b.: 37¢ Gray wolf
c.: 37¢ Common raven
d.: 37¢ Musk oxen and caribou
e.: 37¢ Grizzly bears and caribou
f.: 37¢ Caribou and willow ptarmigans
g.: 37¢ Arctic ground squirrel
h.: 37¢ Willow ptarmigan and bearberry
i.: 37¢ Arctic grayling
j.: 37¢ Singing vole, thin-legged wolf spider, lingonberry, Labrador tea
---
July 27
37¢ Korean War Veterans Memorial
PSA pane of 20
POSTMASTER
SPECIAL CANCELLATIONS
PO BOX 92282
WASHINGTON DC 20090-2282
USPS #: 455140 (pane of 20)
Scott #: 3803
---
August 1
37¢ Purple Heart re-issue
PSA pane of 20
POSTMASTER
500 DERMOTT LN
SOMERSET NJ 08873-9991
USPS #: 188940 (pane of 20)
Scott #: 3784A
---
August 7
37¢ Mary Cassatt
Featuring: 4 designs
PSA booklet of 20
POSTMASTER
850 TWIN RIVERS DRIVE
COLUMBUS, OHIO 43216-9991
USPS #: 671940 (booklet of 20)
Scott #: 3804 - Young Mother
3805 - Children Playing on the Beach
3806 - On a Balcony
3807 - Child in a Straw Hat
---
August 8
37¢ Early Football Heroes
Featuring: Walter Camp, Red Grange, Bronko Nagurski, and Ernie Nevers
PSA pane of 20
w/selvage
POSTMASTER
424 SOUTH MICHIGAN ST
SOUTH BEND IN 46624-9010
USPS #: 454840 (pane of 20)
Scott #: 3808 - Bronko Nagurski
3809 - Ernie Nevers
3810 - Walter Camp
3811 - Red Grange
---
September 3
37¢ Antique Toys
Double-sided book of 20 printed by AVR
POSTMASTER
SPECIAL CANCELLATIONS
PO BOX 92282
WASHINGTON DC 20090-2282
USPS #: 674025 (booklet of 20)
Scott #: 3642a - Mail Wagon, serpentine die cut 11x111/4 on 2 or 3 sides
3643a - Locomotive, serpentine die cut 11x111/4 on 3 sides

3644a - Taxicab, serpentine die cut 11x111/4 on 2 or 3 sides

3645f - Fire Pumper, serpentine die cut 11x111/4 on 3 sides

---
September 13
37¢ Roy Acuff
PSA pane of 20
POSTMASTER
FIRST DAY CANCELLATIONS
525 ROYAL PARKWAY
NASHVILLE TN 37230-9998
USPS #: 454640 (pane of 20)
Scott #: 3812
---
September 23
37¢ District of Columbia
PSA pane of 16
POSTMASTER
SPECIAL CANCELLATIONS
PO BOX 92282
WASHINGTON DC 20090-2282
USPS #: 455240 (pane of 16)
Scott #: 3813
---
October 7
37¢ Reptiles and Amphibians
Featuring: The Scarlet Kingsnake, the Ornate Chorus Frog, the Blue-Spotted Salamander, the Ornate Box Turtle, and Reticulate Collared Lizard
PSA pane of 20
POSTMASTER
PO BOX 509903
SAN DIEGO CA 92150-9903
USPS #: 454940 (pane of 20)
Scott #: 3814 Scarlet Kingsnake
3815 Blue-spotted Salamander
3816 Reticulate Collared Lizard
3817 Ornate Chorus Frog
3818 Ornate Box Turtle
---
October 8
(45¢) Stop Family Violence semipostal
PSA pane of 20
POSTMASTER
SPECIAL CANCELLATIONS
PO BOX 92282
WASHINGTON DC 20090-2282
and issued nationwide
USPS #: 566140 (pane of 20)
Scott #: B3
---
October 10
23¢ Ohio University
stamped card
POSTMASTER
5 W STIMSON AVE
ATHENS OH 45701-9991
USPS #: 221440 (stamped card)
Scott #: UX400
---
October 23
37¢ Holiday Traditional: Madonna & Child
Double-sided book of 20
POSTMASTER
421 EIGHTH AVE RM 2029B
NEW YORK, NY 10199-9991
USPS #: 672440 (booklet of 20)
Scott #: 3820
---
October 23
37¢ Holiday Music Makers
PSA pane of 20, double-sided book of 20, and vending book of 20
POSTMASTER
421 EIGHTH AVE RM 2029B
NEW YORK, NY 10199-9991
USPS #: 564040 (pane of 20), 672240 (Convertible Book of 20), 672340 (Vending Book of 20),
564066 (Stamped Cards set of 20 - 5 sheets of 4)
Scott #s:
Sheet
3821 Reindeer with Pan Pipes
3822 Santa Claus with Drum
3823 Santa Claus with Trumpet
3824 Reindeer with Horn
Vending Book
3825 Reindeer with Pan Pipes
3826 Santa Claus with Drum
3827 Santa Claus with Trumpet
3828 Reindeer with Horn
Stamped Cards
UX401 Reindeer with Pan Pipes
UX402 Santa Claus with Drum
UX403 Santa Claus with Trumpet
UX404 Reindeer with Horn
---
October 24
37¢ Snowy Egret
PSA coil of 100
POSTMASTER
421 EIGHTH AVE RM 2029B
NEW YORK, NY 10199-9991
USPS #: 221440 (coil of 100)
Scott #: 3829
---
November 24
37¢ American Flag
PVA pane of 100
POSTMASTER
SPECIAL CANCELLATIONS
PO BOX 92282
WASHINGTON DC 20090-2282
and issued nationwide
USPS #: 113740 (pane of 100)
Scott #: 3629F
---
December 29
$3.85 Prepaid Priority Mail Envelope
stamped envelope
WASHINGTON DC 20090-2282

to send for postmark:
STAMP FULFILLMENT SERVICES
8300 NE UNDERGROUND DR, PILLAR 210
KANSAS CITY, MO 64144-0001

USPS #: 212110 (pack of 10), 212105 (pack of 5)
Scott #: U652
---

2003 Reprints without first days (Earliest Known Usage noted):

EKU late-March
37¢ Flag
PSA coil of 100 printed by BCA
issued without a first day
USPS #: 780141 (coil of 100)
Scott #: 3633A
---
EKU early June
(5¢) Sea Coast (nonprofit rate)
PSA coil of 10,000
printed by Ashton-Potter
issued without a first day
USPS #: 781441 (coil of 10,000)
Scott #: 3785
---
EKU June ?
60¢ Acadia Nat'l Park
PSA pane of 20
printed by BCA
issued without a first day
USPS #: 501340 (pane of 20)
Scott #: C138a
---
EKU August 7
37¢ Flag
PSA coil of 100 printed by SSP
issued without a first day
USPS #: 780142 (coil of 100)
Scott #: 3632A, serpentine die cut 10 vert., flag lacking star points at top
---
EKU August
83¢ Edna Ferber
PSA pane of 20 printed by Ashton-Potter
issued without a first day
USPS #: 118348 (pane of 20)
Scott #: 3434
---
late-October
23¢ George Washington
PSA pn of 20
printed by AVR
issued without a first day
USPS #: (pane of 20)
Scott #: 3819
---
late-October
(10¢) Atlas (presort Standard rate)
PSA coil of 10,000
printed by AVR
issued without a first day
USPS #: 791241 (coil of 10,000)
Scott #: 3770
---
late-October
37¢ Flag
PSA vending booklet of 20 printed by AVR
issued without a first day
USPS #: 670741 (vending booklet of 20)
Scott #: 3634b
(versions with serpentine die cutting of 11¼ on 3 sides are 3634e for singles and 3634f for a full booklet pane of ten)
---
early December
$3.85 Thomas Jefferson Memorial priority mail
PSA pn of 20 printed by SSP
issued without a first day
USPS #: 112141(pane of 20)
Scott #: 3647A
---
Compiled by Jay Bigalke
©2003 de Vries Philatelic Media
---
Virtual Stamp Club Home Page