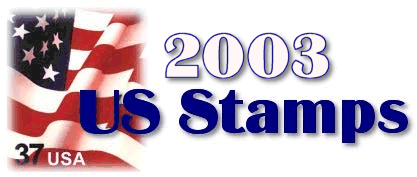 By Lloyd A. de Vries
August 2002
Latest 2003 Schedule
Next year's U.S. stamp subjects surely will be crowd pleasers.

There are a number of firsts in the program and a good helping of history, but there's also quite a bit of pop culture.

The firsts include Thurgood Marshall, the first black Supreme Court justice and legendary civil rights lawyer, and the first powered flight by the Wright Brothers. Other historical issues will include the Louisiana Purchase and Ohio statehood, as well as stamps for migrant-workers activist Cesar Chavez and Korean War veterans.

The program also has stamps featuring country music legend Roy Acuff, Old Glory knick-knacks, Mary Cassatt paintings, lighthouses, movie-making and Audrey Hepburn. There's a complete list at the end of this article.

Only one design has been released so far: Korean War Veterans Memorial (see below).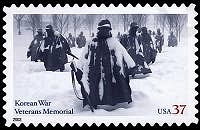 Click for a Larger View

Here are some notes about the individual issues:

Thurgood Marshall's widow Cecilia Marshall had her own idea of what the design honoring her late husband should be, based on a painting hanging at the Supreme Court, so it was mocked up as a stamp design and shown to her and her son, along with the USPS design concept. She liked the USPS design better — she had been afraid the USPS would choose a different painting at the Court that she hates — but her son didn't like the USPS design. According to USPS stamp development chief Terry McCaffrey, though, the rule in the Marshall household, even when the Justice was alive, was "Mama Rules" and that's the design that's being used.


Film-Making has been in the works since 1998. Each stamp will look like a film frame. The ten subjects are
Art Direction (Perry Ferguson, "Citizen Kane," 1941)

Costume Design (Edith Head, with Janet Leigh's Academy Awards gown)

Cinematography (Camerman Paul Hill, "Nagana," 1933)

Direction (John Cassavetes directing "Husbands," 1970)

Editing ("Razor's Edge," 1946, J. Watson Webb, editor)

Make-Up (Jack Pierce, Showing Boris Karloff being made up as Frankenstein, 1933)

Music (Max Steiner)

Screenwriting (A page from "Gone With The Wind," 1939)

Sound Effects (Gary Summers mixing sound at Industrial Light & Magic), and

Special Effects (Mark Siegel, "ET," 1982).
The selvage (margin area) will show Cecil B. DeMille, producing "Cleopatra."

Summers has mixed sound for some of the blockbusters of the last two decades, including the Indiana Jones and Star Wars series, "Titanic," and "Jurassic Park." Steiner's films include "Key Largo," "Caine Mutiny," "King Kong," and "Casablanca." He appeared in the 1932 film "The Half-Naked Truth" as an orchestra conductor.

It's the 75th anniversary of the Motion Picture Academy. These stamps will be unveiled October 9th, and issued in February.

"The stamps will be affixed to the envelopes to all 4,500 Academy members for their ballots and then they'll be canceled first day of issue, so the envelopes themselves will become collector's items," McCaffrey told the Virtual Stamp Club in an interview.

So far, it's his favorite issue of 2003.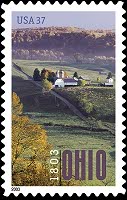 Ohio Statehood Bicentennial (right - click for a larger view) will be similar in design to the recent Wisconsin Statehood stamp.

The National Wildlife Refuge System wanted a stamp saluting its centennial, but the USPS doesn't like to commemorate government agencies; instead, this stamp marks the centennial of the first National Wildlife Refuge (sounds like splitting hairs to me) in 1902. Pelican Bay, said McCaffrey, looks like a mudhole, so instead, the stamp design is a striking vertical picture of a pelican by Carl Hermann. Pelican Bay is in Georgia.

The Cesar Chavez family and Foundation (pretty much the same thing) are excited about the stamp, but do not want it issued on his birthday, March 31st. The Foundation holds a month-long celebration, starting on his birthday, to advance his ideas, said USPS Director of Community Relations Dave Failor, and the stamp will be issued sometime during that month.

Louisiana Purchase is also a vertical stamp (as are most of the single-design issues in 2003). It shows two bewigged gentlemen shaking hands, with a copy of the treaty behind them the left and a map of the eastern United States on the right. McCaffrey said Sen. John Breaux of Louisiana has been lobbying for this stamp for two years. There's little chance it will be a joint issue with France — that would sort of be like asking the British to participate

Author Zora Neale Hurston, the Literary Arts stamp subject, is "probably the hottest property right now in literary circles," said McCaffrey. "I Lift My Eyes To God" was an Oprah book club selection. Hurston was a Harlem Renaissance writer in the 1930s, wrote primarily about Florida.

Four of the stamps will have explanatory text on the reverse, telling who the subjects are: Chavez, Hurston, Pelican Bay, and Roy Acuff.

Mary Cassatt is going to be a block of four stamps for the American Treasures series, but it won't be a sheet of 20 as were the previous issues in the series. Instead, it will be a booklet, to give the public a colorful mail-use stamp. Cassatt is "always a popular subject," said McCaffrey. There will be some blank areas with lettering at the bottom of the designs, because the USPS was not allowed to crop (edit) the images of these masterpieces.

Lighthouses is the third in the series. Cape Henry Lighthouse, Virginia; Cape Lookout, North Carolina; Morris Island, SC; Tippy Island, Georgia; Pillsboro Inlet, Florida. Pane of 20.

"Old Glory" will be a prestige booklet of 20. "We think this is going to be gangbusters," said McCaffrey." "We're printing more of these than we did with submarines, and we're going to more widely distribute them to post offices." There will be 20 stamps in each booklet, four rows of 5 designs, all 37¢. McCaffrey said they would all be high denominations, and none of the press realized he was joking. The booklets will sell for face value, $7.40.

"It's not just flags, it's how the flag is interpreted in ephemera," said McCaffrey: Uncle Sam toy, campaign ribbon, needlepoint bookmark, a fan, and a woodcarving, all red, white and blue.

Nature Of America - Arctic Tundra: Polls have shown these are some of the most popular stamps each year; not just with collectors, but also with the general public. The plan was to do only six in the series (Tundra will be #5) that the series has been extended to 12. "Some of John (Dawson)'s designs will just knock your socks off," said McCaffrey. "They are just fabulous. Each one seems to get better and better."

Korean War Veterans Memorial will coincide with the 50th anniversary of the armistice signing. We have the design for this one, and will post it shortly. It shows the Memorial in snow, but CSAC thought that when you think of the Korean War, you think of snow. The anniversary is July 27th.

The Legends of Hollywood subject, Audrey Hepburn has proved to be much more difficult to portray than expected. Michael Deas' initial painting was sent back by CSAC for further revision.

"It's difficult to portray her because she had such fine features," McCaffrey said in an interview with the Virtual Stamp Club. "Subtle differences in the eye shape and the shape of her face, her mouth, will dramatically throw off what she looks like, and everybody knows what Audrey Hepburn looks like....We were quite shocked at how Michael Deas, who does some good portraits, had some problems, and it wasn't his fault, by any means."

In showing the preliminary design, McCaffrey pointed out that Hepburn's neck appeared to be too long, although she did have a long neck. The preliminary design was based on a photo from the movie "Sabrina." The selvage will show "Breafast at Tiffany's." August 2003 is the 50th anniversary of the release of "Roman Holiday," her first film, and for which she won an Academy Award.

Her son is the principal heir. He and other family members were not happy with a foreign issue a few years ago that showed Hepburn wearing a hat.

John Wayne is still on the back burner, he told VSC. "We have rights issues, and they have not been resolved."

Powered Flight will be issued not in North Carolina and not in Ohio, but in Virginia. It has a poster look to it, and features the airplane, not the Wright Brothers, just to be different from previous stamps for this historic event. It will be issued as a souvenir sheet of 10 — the same format as the Looney Tunes stamps, turned sideways: Nine stamps in a block 3x3, and a "collectible card" with the 10th stamp.

The Wright Brothers will appear on the back of the collectible card.

The Brothers are now represented by Roger Richman, the agency that represented Marilyn Monroe; Kelly Spinks, who handled licensing for stamp subjects for the now works for Richman and handled negotiations for this issue. McCaffrey says the agency was very cooperative for this one.

Because the actual event occurred in early December 1903 — too late in the year for the stamp program — it will be issued in Newport News, Virginia, in April. There will be an international air show, the biggest of the year, during the entire month.


McCaffrey describes the Roy Acuff stamp as "Marvin Runyon's swan song." The then-Postmaster General came to the Citizen Stamp Advisory Committee shortly after the Country Music legend died November 23, 1992.

He was reminded that the rules stipulated a ten-year waiting period, and, according to McCaffrey, Runyon responded, "Fine. Ten years from now, I want to see that stamp."

Acuff, who sold more records than any other country star in the '30s and '40s, was born in tiny Maynardsville, Tenn., in 1903, and in 1962 became the Country Music Hall of Fame's first living inductee.

McCaffrey imagines Nashville, possibly the Grand Ol' Opry, will be the first day city, probably around Acuff's birthday in September.

The vertical stamp shows Acuff with his fiddle, knees slightly bent.


Early Football Heroes was designed by Richard Sheaff from black-and-white photographs. Walter Camp and Red Grange have been under consideration. Next year is Grange's 100th birthday, so there was a big push for him, while Sen. Joe Lieberman, D-Conn., was pushing for a Camp stamp, because of the Yale connection.

When the Lieberman letter first came in 18 months ago, he was running for vice president, so the stamp got a little extra consideration then. The USPS decided to round out the set to four stamps, and contacted the Pro and College Football Halls of Fame for suggestions. The other two subjects are Bronko Nagurski and Ernie Nevers.

McCaffrey hopes that they will be issued in September at the beginning of the football season, probably at the Football Hall of Fame in Canton, Ohio.

I pointed out that the Hall of Fame game is usually played in early August. McCaffrey said that was possible.


Reptiles And Amphibians: McCaffrey says that when Insects and Spiders was first proposed to CSAC, then-committee member Mary Ann Owens didn't think anyone would want bugs on stamps. But that set is now the fourth-highest retained stamp in recent U.S. history. So the same designer, Steve Buchanan of Winsted, Conn., was asked to design this set, which kids have requested. There will be five different designs: The Scarlet Kingsnake, the Ornate Chorus Frog, the Blue-Spotted Salamander, the Ornate Box Turtle and Reticulate Collared Lizard. The designs are computer generated.

These will be the National Stamp Collecting Month issue, around the first of October.

Holiday Music: "I think these are some of the most colorful images that we've had in a long time for the holiday stamps," said McCaffrey. "They're whimsical in nature."

Ethel Kessler was the art director and the illustrator is Diane Teske Harris of Wyoming.




Purple Heart

I couldn't find any art on the Internet illustrative of Harris' work, but both McCaffrey and Kessler are enthusiastic about these designs: Reindeers with a pan flute, trumpet, horn and drums.
Later, in February 2003, Harris told the VSC that she lives in Montana, not Wyoming. Additonal samples of her work may be seen on the Directory of Illustration web page.
"There has been intense pressure I'm sure you're all aware from Purple Heart organizations, Congressman, Senators," McCaffrey said. Carl Hermann is developing the design now, but there are only concepts now. The date of issue will depend on when the design is done.
(Join discussion here on the VSC Message Board about the Purple Heart Stamp)

There won't be a Madonna & Child stamp in 2003, because the stamps are now intended for a two-year life cycle, said McCaffrey. One was issued in 2002 only because of the rate change, but there will always be a Madonna stamp available.

McCaffrey said it appears that all of 2003's stamps will be self-adhesive, but none will be engraved.

The Toleware stamp was the first in the American Design series, and a second one is being readied now, a 10¢ stamp to replace Stilwell. It could be in several different formats, depending on needs, but McCaffrey wouldn't disclose the design.

He said his office is "radically rethinking" prior series and "trying to bring order from chaos, as we have been told." They will try to limit the number of varieties.

Here's the complete list - at least as of now:


January, Year of the Ram. Single 37¢ self-adhesive commemorative stamp, pane of 20.

January, Thurgood Marshall. Single 37¢ self-adhesive commemorative stamp, 26th in the Black Heritage series, pane of 20.

February 25, American Filmmaking: Behind the Scenes. Ten 37¢ self-adhesive commemorative stamps featuring: Art Direction, Costume Design, Camera, Direction, Editing, Make-up, Music, Screenwriting, Sound Effects, and Special Effects, pane of 10, Los Angeles, CA 90001.

March 1, Ohio Statehood. Single 37¢ self-adhesive commemorative stamp, pane of 20, Marion, OH.

March 14, Pelican Island National Wildlife Refuge. Single 37¢ self-adhesive commemorative stamp, pane of 20.

April, Cesar E. Chavez. Single 37¢ self-adhesive commemorative stamp, pane of 20.

April, Zora Neale Hurston. Single 37¢ self-adhesive commemorative stamp, pane of 20.

April 12?, First Powered Flight. Single 37¢ self-adhesive commemorative stamp, pane of 10, Newport News, VA.

April 30?, Louisiana Purchase. Single 37¢ self-adhesive commemorative stamp, pane of 20, New Orlean, LA?.

May 22, Mary Cassatt. Four 37¢ self-adhesive commemorative stamps, booklet of 20, Pittsburgh, PA ?.

June, Southeast Lighthouses. Five 37¢ self-adhesive commemorative stamps featuring: Cape Henry Lighthouse, Virginia; Cape Lookout, North Carolina; Morris Island, SC; Tippy Island, Georgia; and Pillsboro Inlet, Florida, pane of 20.

July, Old Glory. Five 37¢ self-adhesive commemorative stamps, prestige booklet of 20.

July, Arctic Tundra. Ten 37¢ self-adhesive stamps, 5th in the Nature of America series, pane of 10 and press sheet of 60.

July 27, Korean War Veterans Memorial. Single 37¢ self-adhesive commemorative stamp, pane of 20, Washington, DC 20066.

August, Audrey Hepburn. Single 37¢ self-adhesive commemorative stamp, 9th in the Legends of Hollywood series, pane of 20.

September 15, Roy Acuff. Single 37¢ self-adhesive commemorative stamp, pane of 20, Nashville, TN.

September, Early Football Heroes. Four 37¢ self-adhesive commemorative stamps featuring: Walter Camp, Red Grange, Bronko Nagurski, and Ernie Nevers, pane of 20.

October, Reptiles and Amphibians. Five 37¢ self-adhesive commemorative stamps featuring: The Scarlet Kingsnake, the Ornate Chorus Frog, the Blue-Spotted Salamander, the Ornate Box Turtle, and Reticulate Collared Lizard, pane of 20.

October 15, Holiday Music Makers. Four 37¢ self-adhesive commemorative stamp, pane of 20, book of 20, and vending book of 20.

TBD, Purple Heart. Single 37¢ self-adhesive definitive stamp, pane of 20.

TBD, TBD. Single 10¢ definitive stamp, American Design series, various formats.
(Compiled by Jay Bigalke)
The 2003 program will be unveiled October 10th at Legoland in California with giant stamp designs created out of Legos building blocks!
Join our discussion about the 2003 U.S. Stamp program!
Hear an interview of USPS chief stamp developer Terry McCaffrey by Lloyd A. de Vries
Thurgood Photo Courtesy USPS
---
Virtual Stamp Club Home Page