It's Beginning to Look a Lot Like
CHRISTMAS
Christmas Issues from Around the World
(Click on Linked Stamps for a Hi-Res View)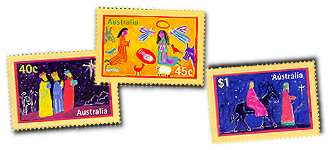 Australia's three stamps show the three kings, a nativity scene, and
Mary and Joseph travelling to Bethlehem.
Six New Zealand designs, based on 1960 stamps: According to NZ Post, "the designer, Sally Simons, took her inspiration from the 15th century tapestries illustrated in the medieval Books of Hours. Each stamp in this Christmas issue tells part of the Nativity story as an artistic representation of the birth of Christ."
Next Page

Virtual Stamp Club Home Page