Scenes From Washington 2006

Friday, May 26th:

By about 5 p.m., The Virtual Stamp Club Computers in Philately booth was mostly assembled, the computers hooked up, and VSC staffer Jeff Hayward (back left) could check how the machines were running.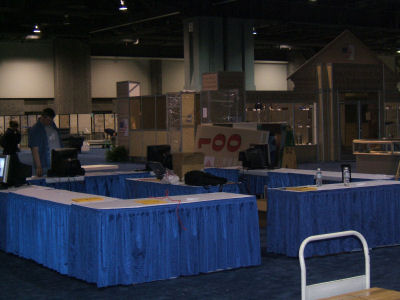 Other booth-holders, particularly those at the end of Hall B, were not so lucky.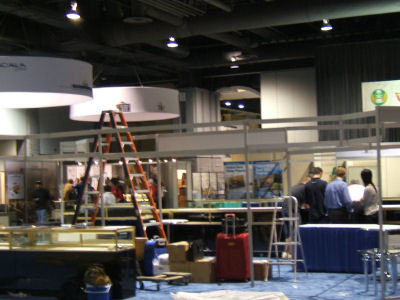 ---
If hearing about the distinguished career of Bob Lamb, first as a diplomat and then as Executive Director of the American Philatelic Society wasn't of interest to you, then the APS Tiffany Dinner was probably boring (other than the excellent food that was served).

Former APS Director of Administration (the #2 post) Frank Sente described how working for Bob was like riding a roller-coaster. He also said that he measured the stress in any given workday by the number of "Gee, Bobs" as in "Gee, Bob, we tried that a few years ago...." or "Gee, Bob, are you sure we...."

John Hotchner, who worked for Bob in the State Department's Passport Services (and we believe now heads that office), told how he brought Bob into a winning Board of Vice Presidents slate with him, and then, when the search for a new executive director was about to begin and Bob happened to be retiring from the Foreign Service, recommended that he be considered as executive director.

Dave Failor of the U.S. Postal Service unveiled this preliminary design for Distinguished Diplomats, to be issued during Washington 2006: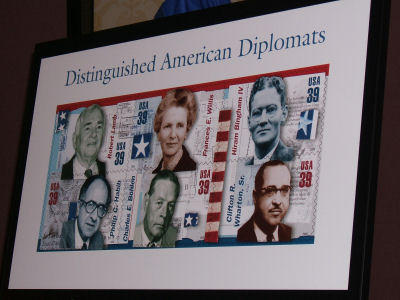 However, Dave said, CSAC had to be convinced that Bob wasn't dead, and therefore ineligible to be on a stamp. So a CSAC member (he didn't say whom) called Bob's office, and as soon as Bob answered "Bob Lamb," the CSACer hung up, convinced, and Bob's picture was removed from the issue.




---
Virtual Stamp Club Home Page