Britain Heralds the Year of The Horse
[Royal Mail press release]
ROYAL MAIL CELEBRATES LUNAR NEW YEAR ON SPECIAL STAMP SHEET
Royal Mail heralds the Year of the Horse on a special sheet of 20 stamps
The limited-edition sheet features Lunar New Year celebrations from five cities across the UK as well as vibrant images of moving horses
The launch follows the popular Royal Mail sheet for the Year of the Dragon in 2012 and the Year of the Snake in 2013
The sheet costs £12.50 and is available online at www.royalmail.com/horse and at selected Post Office across the UK
To mark the Lunar New Year, the Year of the Horse, Royal Mail has issued a limited-edition stamp sheet available in selected Post Offices across the UK. Twenty First Class fireworks stamps feature alongside labels of intricate designs and iconic imagery relevant to the Lunar New Year.

The sheet contains five images of past Lunar New Year celebrations in the English cities of Milton Keynes, Liverpool, Manchester as well as in Scotland's Kilmarnock and Swansea in Wales.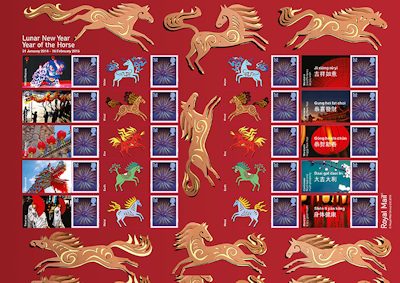 (Click for a Larger View)


Set against a red background, a colour synonymous with good fortune in China, the sheet also contains vibrant images of five elemental horse types: metal, earth, fire, wood and water.

Completing the imagery are labels with messages of good luck and prosperity, good fortune, good health and Happy New Year in both Mandarin and Cantonese.

The Year of the Horse commences on 31 January.

Philip Parker, Royal Mail spokesperson, said: "Across the UK each year, the Lunar New Year celebrations get even more exciting and extravagant. Our stamp sheet is visually striking and we believe that it will make a significant contribution to the 2014 celebrations marking the Year of the Horse."

The sheet also features seven large illustrations of horses galloping their way around the outside and centre of the sheet.

The stamps follow on from the huge success of Royal Mail's first 'Lunar New Year: Year of the Dragon' sheet from 2012 and the 'Lunar New Year: Year of the Snake' sheet from 2013.

London boasts one of the oldest Chinese communities in the UK with records showing some of the earliest settlers in Bow, east London.

Today there are significant Chinese communities in cities all across the country, most notably London; Manchester; Birmingham; Liverpool; Sheffield and Edinburgh – with most featuring a Chinatown - an area rich in Chinese culture and business.

The 2011 Census reported that there were 426,847 residents in Great Britain of people of Chinese origin. Cantonese is the predominant language spoken by Chinese living in the UK, followed by Mandarin Chinese and Hakka Chinese.

The Lunar New Year 'Generic Sheet' is available in 350 Post Offices across the UK, online at www.royalmail.com/horse and from Royal Mail Tallents House (tel. 08457 641 641), 21 South Gyle Crescent, Edinburgh, EH12 9PB.

For customers in China, the sheets can be purchased from Emily Lee at Stanley Gibbons at:

Email: elee@stanleygibbons.com
Telephone: +852 3975 2989

Or at:

Stanley Gibbons (Asia) Ltd.,
10/F Central Building,
1-3 Pedder Street,
Central, Hong Kong.

For almost 50 years, Royal Mail's Special Stamp programme has commemorated and celebrated events and anniversaries pertinent to UK heritage and life. Today, there are an estimated 2.5 million stamp collectors and gifters in the UK and millions worldwide. Her Majesty the Queen approves all UK stamp designs before they are printed.

Stamps and stamp products are available at all Post Office Branches, online at www.royalmail.com/stamps and from Royal Mail Tallents House (tel. 08457 641 641), 21 South Gyle Crescent, Edinburgh, EH12 9PB.


---
Virtual Stamp Club Home Page