Sweet Stamp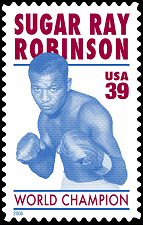 Over and over, the phrase you hear about the boxer Sugar Ray Robinson is "pound for pound, he was the greatest."

He held professional titles in three classes, and for most of his career, seemed virtual unbeatable. In 1999 a panel of experts named him "Fighter of the Century."

"He was personification of the sport and the ethic of getting to where you want to be with the best you have," his son, Ray Robinson II, told The Virtual Stamp Club's Lloyd de Vries.

The new 39-cent stamp will be released with a ceremony during the finals of the Golden Gloves amateur boxing championships at New York's Madison Square Garden on Friday. Boxers Jake LaMotta, Larry Holmes, and Joe Frazier are expected. LaMotta fought Robinson several times, and Robinson was best man at LaMotta's sixth wedding.

Many families campaign to have their loved ones honored on a U.S. postage stamp, but not the Robinson family.

"How do you campaign for a stamp? I have no — no, I didn't — I was just called, and told, 'Listen, this is something we're thinking about doing. Would you be interested in participating?' I said, 'Sure, what do you mean, would I participate?'"


---
---
But the boxing legend's son says there's a logical reason to issue a Sugar Ray Robinson stamp now.

"The stamp is a 39-cent stamp. Dad won his first championship at the Golden Gloves in 1939," Robinson said.

Well, not quite, says Dave Failor, the Postal Service's executive director of Stamp Services.

"It wasn't tied to any anniversary or anything like that. It was just the Committee had placed him under consideration, he eventually rose up to the top, and (they) said, 'Yeah, it's time to do a Sugar Ray Robinson stamp,'" Failor told The Virtual Stamp Club.

Robinson was born (as Walker Smith, Jr., in Ailey, Ga., in 1921 (he claimed Detroit in his autobiography) and died in California in 1989, but grew up first in Detroit — where he carried Joe Louis' gym bag — and later in New York.

He became "Ray Robinson" when he became a last-minute amateur featherweight in Kingston, N.Y., and his coach used another boxer's American Athletics Union card for "Junior." The nickname "Sugar" was added by a sportswriter after an amateur bout in Watertown, N.Y.

According to The Ring Record Book, Robinson fought a total of 201 bouts, winning 174 (109 by knockout) against only 19 losses, six draws, and two no contests. Of those 19 losses, 15 occurred after he was 35 years old; 10 came after he turned 40; and five during the last six months of his career at 44.

His only technical knockout, when he failed to answer the bell for the 15th round outdoors in Yankee Stadium on a summer evening, was the result of heat exhaustion. The fight's referee only lasted 10 rounds, before being replaced.

In arranging for LaMotta's appearance at the stamp ceremony, the Raging Bull asked a Postal Service press representative when he's going to get his own stamp.

"Well, sir, you have to have been dead for 10 years," the postal person replied.

"I guess I better work on that next," said LaMotta.

Also getting a stamp on the same day is Benjamin Franklin. It's not his birthday either — he was born Jan. 17, 1706 — but a large celebration of his 300th anniversary is under way now in Philadelphia, his adopted city. (He was born in Boston.)

The Postal Service is printing 100 million Robinson stamps, and only 40 million Franklins. But the Founding Father — also the first Postmaster General — gets four different stamps, featuring his roles as statesman, scientist, printer and the first postmaster general.

The Robinson stamp shows a boxing poster in red and blue, but there's no flamingo pink on the stamp, the color of Sugar Ray's trademark Cadillacs and Lincolns.

"Everybody, when they think of Dad, they think 'Oh, jeez, he was great, and whatever happened to that pretty car?'" Robinson said.

What did happen to them? Robinson says his father's former chauffeurs have them, and, despite reports that Sugar Ray insisted they be repainted once they left his possession, the son is pretty sure they remained flamingo pink.


---
Virtual Stamp Club Home Page