The Volunteers
(Click all pictures for a full-size view)

The local committee and its volunteers are a key part of any STAMPSHOW (and, indeed, most stamp shows, too), and STAMPSHOW '98 was no exception. Robert D'Elia was among those setting up exhibits. In his right hand is the special screwdriver that opens and closes the exhibit frames; in his left, the pole used to hold open the top (clear glass or plastic) part of the frame while the pages are inserted.

A volunteer (left) gets a view of the exhibits during set-up that visitors to the show will never get -- or want!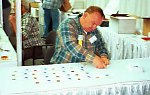 Throughout STAMPSHOW '98, first day covers of the new Four Centuries of American Art stamps with the STAMPSHOW '98 cachet were given out at events or sold. Others will be distributed later, requiring a large number of FDCs. Volunteer Ray McCoy (right) of Fremont , California, a member of the Fremont and San Jose stamp clubs, helped prepare the FDCs by affixing stamps to the envelopes.
The Press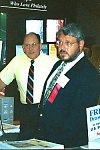 Editor Maurice Wozniak and publisher Wayne Youngblood, along with advertising representative Jill Rusch (not shown), staffed the Krause Publications booth at STAMPSHOW '98.

LINN'S senior editor Rob Haeseler, (left) seen here examining literature at STAMPSHOW '98, covers the American Philatelic Society regularly as part of his "beat."
Next Page
Text and Photos © 1998 by Lloyd A. de Vries
---
Virtual Stamp Club Home Page