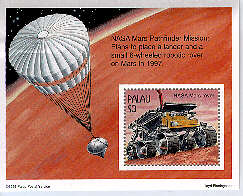 Mars Rover on 1996 Stamp
Inter-Governmental Philatelic Corporation of New York, in a press release, reports great interest in a November 8, 1996, Republic of Palau souvenir sheet that depicts the Mars Pathfinder Rover. The $3.00 single-stamp sheet shows "Sojourner" traveling on the red gravel of Mars (click here for a hi-resolution image of the Rover stamp).

Says the press release, "hours following the historic television and internet broadcast of the first images of Mars, word somehow spread about the Mars stamp and calls began pouring in to the Palau Philatelic Bureau in New York and Palau with inquiries for the stamps....'We needed to call in people on the holiday just to handle all of the phone requests,'" said Polly Cianciolo, director of Palau's Philatelic Services. "Approximately 7,500 calls were received the first two days and we are still calculating the orders."

Palau is a former United States protectorate in the Pacific that uses U.S. currency.

IGPC says the demand for the stamp was "average" until the Mars landing July 4.
---
Virtual Stamp Club Home Page