Year of the Ram First Day Ceremony
January 15, 2003 at 11:00am
By Jay Bigalke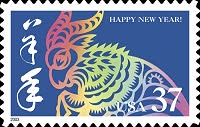 Students at the John C. Hanies Elementary School started out the first day ceremony for the Year of the Ram postage stamp with the presentation of the colors and a lion dance. Principal Diann Wright thanked the Postal Service for choosing their school as the location for the first day ceremony and then introduced the Emmy award winning news anchor who was the Master of Ceremonies.
Fox News Chicago anchor Nancy Loo greeted the audience with "Kung Hey Fat Choi!!" although admitting it was still a little early for that greeting as the new year does not start until February. Loo also thanked the Postal Service for choosing Chicago as the location for this event because it "proves the significance of a growing Asian population in the Midwest."
Chicago Postmaster Eric D. Chavez explained to the students and others attending their first ceremony the significance of the event. Chavez also introduced the guests in attendance, which included a former postmaster of San Francisco.
Loo then introduced the mayor's Deputy Chief of Staff Gene Lee as the "shy guy." He reminisced on the fact that he attended the John C. Haines school. He also talked about the famous people who have visited the school, including Hillary Clinton. Chicago Chinatown Chamber of Commerce president Helen Lee spoke of growing up in Hong Kong. She explained that stamp collecting was encouraged as it taught organization, geography, history and many other attributes. She ended her speech wishing everyone a happy year of the "ram, sheep, or goat."
Christine Chen, Executive Director of the Organization of Chinese Americans, explained in her brief speech that it has been 10 years since the first Lunar New Year stamp was issued in 1993.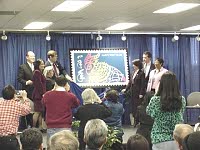 Postal Service Board of Governors secretary William T. Johnstone spoke of the Postal Service's way of celebrating world cultures and commented that they were "proud to have this event in Chicago." He then invited everyone to join him in the unveiling of the stamp (picture right - click for a larger view).
The students of the school then performed a Chinese folk dance to conclude the ceremony.

Below is a picture of the first day ceremony program (click picture for a larger view):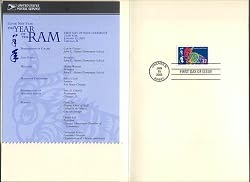 ---
Virtual Stamp Club Home Page