Pelicans, Stamps, and Conservation Highlights
Articles and photographs by Jay Bigalke
Additional photographs by Chris Lazaroff
Click Pictures for a Larger View
"The U.S. Fish & Wildlife Service is using this historic occasion to put the welcome mat out to every American. There is a wildlife refuge in every state and one within an hour's drive of most cities," said Fish and Wildlife Service Director Steve Williams. "Wildlife refuges are unique because we have struck a balance between the needs of wildlife and people. Wildlife refuges offer unprecedented opportunities for wildlife observation, school education programs, and fishing and hunting."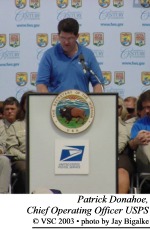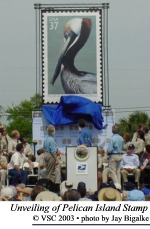 "This new commemorative stamp helps the Postal Service mark milestone in the history of wildlife conservation in America," said the USPS' Donahoe. "This stamp will provide Americans an opportunity to learn more about out natural resources and encourage people to help preserve the beauty and majesty of American wildlife." The stamp was then unveiled.
"President Bush is committed to carrying on the 100-year conservation legacy of President Roosevelt," said Norton. "On this historic occasion, we invite every American to discover a wildlife refuge near their home and to join with us in protecting these natural treasures for the next 100 years."
Before wrapping up the event,
Hanna looked up at the plane flying overhead.
"It would be funny if that guy up there carrying that would run out gas, wouldn't it?" he said. "Then he'd stop carrying that thing around."
The ceremony was well attended with over 1,000 guests. The lines for purchasing stamps and receiving the special first day of issue cancellation both had a couple of hundred people in them. The local post office sent out invitations to "Postal Customer" to patrons in the area alerting them of this event. The card even featured a spot for the stamp and cancellation, and they were a hot item at the ceremony.
The pictorial first day cancel featured geese, which is the logo of the National Wildlife Refuge System.
As we departed by bus from Riverview Park to Vero Beach, where the check-in was located, we saw that the road on which Norton traveled to the event was lined with 540 different white flags featuring the NWR system logo and the names of specific wildlife refuges.
This was a great way to celebrate a century of conservation with the issuance of the Pelican Island National Wildlife Refuge stamp.
© 2003 de Vries Philatelic Media
---
Virtual Stamp Club Home Page