Got a Match?
The Match Factory site is adjacent to the main public park in Bellefonte. At the moment, there's an abandoned cinderblock building the town plans to demolish, the rail line, and a chain-link fence between the Factory property and the park. The fence would also come down, and one proposal from the town is to put APS visitor parking where the cinderblock building is currently.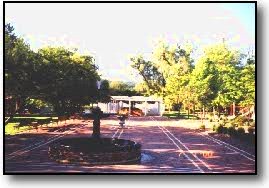 Here's the entrance to the park, from the side furthest away from the Match Factory. I'm told there's a sculpture garden here, although I didn't see any sculptures. I did see a nice, modern playground. In the foreground at left is a fountain (is that fed by the Bellefonte spring?). To the right, but not shown, is the town's railroad station, now the Chamber of Commerce offices and terminal for the tourist railroad.

The Match Factory is located behind the trees at the right.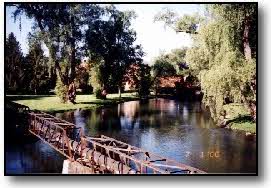 This picture was taken from a pedestrian suspension bridge across one of the streams (Spring Creek? Logan's Branch?) in the park. The Match Factory can be seen in the background, behind the trees.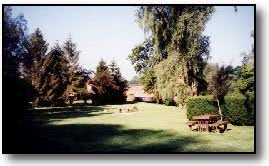 More of the park, with a picnic table in the foreground, and, again, the Match Factory in the background behind the trees.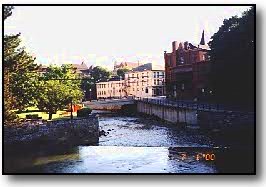 Some of downtown Bellefonte and more of the park. Right above the date in the picture is a small waterfall.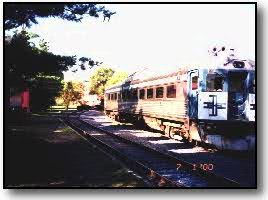 This picture was taken from the station, and shows two pieces of the Bellefonte Historical Railroad's rolling stock (a passenger car at right, and in the left background, a snowplow), as well as its right-of-way(track). Straight back is the Match Factory's main building. An abandoned spur runs right up to the building, although it's no longer connected to the main line and the ties are rotted.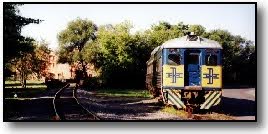 A little further down the track is what I believe is a rail diesel car, and the Match Factory is now more visible in the background. The rail line curves past the building to the left.

©2000 de Vries Philatelic Media

---
Virtual Stamp Club Home Page