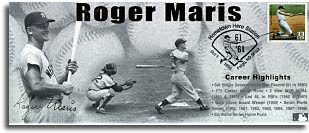 Friday, October 1 was the 38th anniversary of Roger Maris' 61st home run, and his home town post office celebrated with a pictorial postmark and cacheted cover.

Maris was born in Hibbing, Minnesota. He moved with his family to Fargo in 1942. He broke into the major leagues with the Cleveland Indians in 1957 and joined the New York Yankees in 1960.

The Fargo, North Dakota, postmark shows a baseball diamond, Maris hitting the ball, and the ball sailing away from the plate. It's the ball that cancels the stamp, btw. The cancel reads "Home Town Hero Station."

You can submit covers to:
Maris Cancellation
c/o Postmaster
657 Second Avenue North
Fargo, ND 58102-9998
Or you can purchase a cacheted cover from the Fargo post office. It has two pictures - a posed photo of Maris holding his bat and wearing his Yankees uniform, and another of him hitting the ball - and his stats. It uses the Maris stamp from the Celebrate the Century 1960s set.

The price is $10 each, plus $5 postage & handling per order. So, one cover will cost $15, two $25, three $35, and so on.

The address to order is:
Maris Cachet
c/o Postmaster
657 Second Avenue North
Fargo, ND 58102-9998
A spokeswoman tells the Virtual Stamp Club 10,000 of the covers have been produced.
---
Virtual Stamp Club Home Page