Marilyn Monroe Errors Reported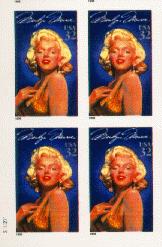 Imperforate Marilyn Monroe sheets were first reported on the West Coast. THE NORTH COUNTY TIMES in suburban San Diego reports "two rare sheets of uncut Marilyn Monroe stamps" were offered to Gary West of Great American Stamp Company.

In the Pacific Northwest, another collector reportedly purchased an imperforate sheet at his local post office. Within an hour, he had sold it to a friend for $2,000. According to one report online, the collector defended the low sale price, considering that a Richard Nixon misprint sold in February for more than $16,000. "I don't need the money and this guy has been a good friend to me for over 25 years."

There's no word on the price paid by Great American for the two Southern California sheets. At first, according to the TIMES, West passed on them, feeling they were out of his reach, but then reconsidered and brought in a partner so that he could afford the stamps. In the words of the paper, "he was drawn to Marilyn like a Kennedy."

The stamps were issued in June of 1995 in "classic collection" sheets of 20. No other errors have been reported.

West calls it a beautiful error. "There are other errors, but they don't have the appeal of Marilyn," he told the TIMES. "I was never a great fan of hers but I am becoming one.

He thinks others will, too. "The sheets appeal not only to stamp collectors but for others who collect Marilyn items," he said.
---
Virtual Stamp Club Home Page