Over The 'Moon River'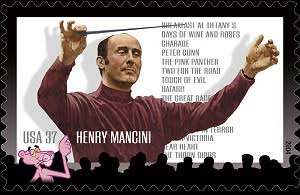 Henry Mancini's first "break" came when he sent some arrangements to Benny Goodman, who bought them and hired Mancini. After service in World War II, Mancini arranged and played piano for the reconstituted Glenn Miller Orchestra, and also began arranging for motion pictures. His first film score was for Abbott & Costello's Lost In Alaska. He also scored both The Glenn Miller Story and The Benny Goodman Story.

He scored and arranged for hundreds of films and such television shows as Peter Gunn, The Thorn Birds, Mr. Lucky, Remington Steele and even some of the music for Gunsmoke. He had a long collaboration with director Blake Edwards and scored most of his films, including the Pink Panther series, Breakfast at Tiffany's, Days of Wine and Roses and 10. Other films included Hatari, Arabesque, Charade (which hinges upon rare stamps and Mommie Dearest.



"What kept Mancini's work fresh was his ability to write in almost any style imaginable and his successful experimentations with unusual sounds and instruments," said Kenneth M. Cassidy and Stephen Thomas Erlewine on All Music Guide.

We had the opportunity to talk to Henry Mancini's widow Ginny — whom he met when she was singing with the Glenn Miller Orchestra — on April 9th, a few days before the stamp was issued.
"I'm so overwhelmed. My family and I are just so excited about the first day issue of the Henry Mancini commemorative postage stamp ... It's just quite an honor and we're thrilled."

Mancini won four Academy Awards, and 20 Grammy Awards. Breakfast at Tiffany's alone won five Grammys and two Oscars. How does a stamp compare to his other awards?

"I think a commemorative postage stamp is probably the greatest honor of all. As wonderful as the Grammys and the Oscars are, I think this tops them all. It's just such a great honor, and Henry, he would be thrilled with this.

"I'm trying to use it as a marketing tool to promote music education because had Henry not had music in school, he never would have ended up on a postage stamp."

So Henry Mancini's music started in 4th grade school music lessons like so many of us?

"He did! He started out with the piccolo and flute and then piano and arranging. That was the path that he was meant to lead."

The first day ceremony will feature family friend and former astronaut and senator John Glenn, the University of Southern California Marching Band — led by the Pink Panther — Irish flutist James Galway and 100 student flutists from Los Angeles area schools. How did this come about?

"Art Bartner, the guru of marching bands, the leader of the USC Trojan Marching Band ... has connections throughout the country with marching bands and young musicians in school, and he auditioned 100 of them throughout the school district of Los Angeles County, and they're excited to be playing with James Galway."

"She is a woman who has a lot of influence in Hollywood and she sees the opportunity to help promote her husband's life and career," Terry McCaffrey, chief of stamp development for the USPS, told The Virtual Stamp Club.

"I didn't work hard to get the stamp at all. It was the [Citizens Stamp Advisory Committee]. They literally get hundreds of thousands of requests to be honored with a postage stamp. I guess they just thought that Henry deserved it, and I couldn't be happier. I didn't do anything to promote this stamp."

"Since the announcement, yes, indeed, we've all been working very hard on what we call 'The Year of Mancini,' and we're providing music in 15,000 schools throughout the country, high schools, marching bands, music, and I am speaking before the Music Educators National Conference next weekend in Minneapolis, Minn. It's given me a wonderful platform to promote music education."

Were Ginny or Henry Mancini stamp collectors?

"No! The only thing I knew about a postage stamp was putting it on an envelope! It's been quite an education for me and my family. And, I must say, the Postmaster General of the United States says that, in his opinion, in the history of the United States Postal Service, this is the most fun, exciting stamp they have issued."

"My favorite Mancini song I think would have to be 'Two For The Road' [from the Audrey Hepburn/Albert Finney movie of the same name] because lyrically it depicts what our life was like, and it touches my heart."
For more information, and to hear some Mancini tracks (a different one on every page), visit HenryMancini.com.


Audio Feature
---
Virtual Stamp Club Home Page