Lord of the Rings
Click Pictures for a Larger View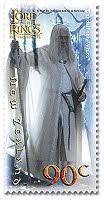 With the release of the movie "Lord of the Rings: The Two Towers" comes the release of New Zealand's second set of stamps. The three Hobbit movies were all filmed there, at the same time, so the government has an interest in promoting the films: Not only are they a boon to the film-making industry there, it could also boost tourism.

Tourism New Zealand, the country's official agency, even bills the country as "The Home Of Middle Earth," and offers tours so fans can see where the films were made. "New Zealand's diverse and sometimes extreme landscapes made it the one place in the world that could bring Tolkien's epic masterpiece to life," says TNZ's site.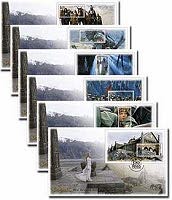 New Zealand Post is offering six gummed stamps, six self-adhesives, six souvenir sheets, a self-stick booklet pane of 10), eight first day covers (gummed stamps, self-adhesives, one each for the souvenir sheets), six maximum cards (which do not reproduce the images on the stamps), and a presentation pack that includes the gummed-stamp first day cover, a set of the self-adhesive stamps and the six souvenir sheets. And then there's the "ultimate collection," that includes all of the above for a mere $279 NZ (about $150 U.S.).

You can get more details, including background on the characters and scenes shown on the stamps and covers, as well as order the items at the New Zealand Post Web site.
---
Virtual Stamp Club Home Page