The King of United States First Day Covers
by Henry Scheuer
Prior to 1910 the United States Post Office Department had, from time to time, commemorated various World's Fairs held throughout the United States with a series of commemorative stamps. Initially in 1893, the Columbian Exposition in Chicago, 1898 Trans- Mississippi Exposition in Omaha; 1901 Pan American Exposition in Buffalo; 1904 Louisiana Purchase Exposition in Saint Louis; and 1907 Jamestown Exposition in Norfolk.

Each of these stamps was finely engraved and depicted a historic scene relating to the Exposition commemoration. There were nine commemorative stamps in the Trans-Mississippi series, with values from one cent to $2. Originally these stamps were to be printed in two colors but were produced in one color due to the constraints created by the outbreak of the Spanish-American War. Perhaps the most beautiful and memorable stamp was the $1 value. In 1934, a Stamps Magazine poll found this to be the most beautiful United States stamp issued to that time. Since then, many others have come to similar conclusions.

The $1 stamp depicts Western Cattle in Storm, also called Black Bull. The design replicates a painting by John McWhirter depicting cattle in a winter storm, not in the United States, but in Scotland.

The first shipment of the $1 value of the new Trans-Mississippi stamps included only ten panes of fifty stamps for a total of 500 stamps. Eventually, a grand total of 56,900 copies were issued to postmasters. By December 1899, the Third Assistant Postmaster General had ordered all remaining unsold stamps to be returned and destroyed.

These stamps were used on heavy mail, for parcels going abroad, and on registered mail. A few of the 20 or so surviving "covers" are actually wrappers or pieces of packages.

The 1997 book written about this series of stamps, The Trans-Mississippi Issue fo 189 by Randy Neil and Jack Rosenthal, documents and further describes the postal markings on these covers. Only one $1 Trans-Mississippi stamp is known used on the first day of issue, June 17, 1898. This is the King of United States First Day Covers.

I first met Frederick Langford in 1979. My business travels to Southern California allowed me to visit him several times in 1979 and throughout the 1980s.

Langford (1916-2010) was born in Chicago and moved to Southern California in his teens. He was a collector of stamps, coins and postcards and began his dealership activities in the 1940s. Langford's Flag Cancel Encyclopedia was initially self-published in 1955 and several updated editions have since been released.

He travelled to Europe in the 1950s and 1960s, always taking time to visit stamp and coin dealers. In 1960 he attended the London International Stamp Exhibition (July 9-16), a major international show, held once every ten years. There he a met a Swiss dealer who was taking names of collectors who might be interested in receiving the firm's upcoming auction catalogs. Langford gave his name and address, and began receiving auction catalogs from Cornphila Zurich.

Lot 4194 in their February 12-17, 1962 catalog caught his eye! The lot description was brief, only one line, but the item was illustrated. A "$1. Black superb on registered cover to Germany" was being offered. The 1962 Scott catalog value for the stamp on cover (any cover) was $125. Langford took note of the illustration, but noticed that only the right half of the cover was illustrated. Yes, the stamp was evident and the Post Office Department Registration number was clear, but the date was on the left half of the envelope and was not illustrated in the auction catalog.

Langford's collecting experience, knowledge and information gleaned from his extensive holdings came to the rescue! He noticed that he had a 50-cent Trans-Mississippi Exposition stamp, postmarked on June 17, 1898, the first day of issue, in his collection. This cover had a Post Office Department Registration label, one number higher than that shown in the catalog illustration. Langford was prepared to gamble. He bid aggressively.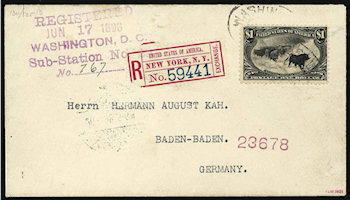 Click for a Larger View

Langford had guessed correctly. This was a first day usage of the $1 Trans-Mississippi Issue. And it was a mate to his 50-cent value, also postmarked on June 17, 1898, the first day of issue.

The cover can best be described as follows:
"An attractively centered $1 Trans-Mississippi stamp was tied by light, Washington, D.C. oval handstamps on a registered cover to Baden-Baden, Germany. A purple "Registered, Jun. 17, 1898, Washington, D.C., Substation No. 29, No. 767" straight line postmark appeared on the left side of the cover."
Over the years, Langford continued to collect information about this series of stamps, diligently documenting the existence of first day covers. He was able to track and later write about the existence of these covers, especially those addressed to Hermann August Kah, Baden-Baden, Germany. One cover of each of the nine values is known addressed to Kah . Only the $ 2.00 value, the highest in the series, is not known. Given its great desirability and value, its whereabouts would most likely become known — if it exists! It's quite likely that the stamp was soaked off cover, if indeed it was prepared in the first place,

These so-called Kah Trans-Mississippi first day covers were prepared by J. Murray Bartels (1872- 1944). Bartels serviced some covers for the 1901 Pan-American Exposition and so became one of the first to prepare United States stamps used on cover for successive stamp issues, postmarked on their first day of issue. Bartels predated the likes of Philip Ward, Jr., H.F. Colman, Henry Hammelman, and Edward C. Worden by a decade or more.

Bartels is best remembered as an expert researcher and publisher in the United States Postal Stationery field. He also published philatelic literature about Canal Zone, Philippines and Virgin Islands stamps. He conducted 337 auctions and operated stamp businesses in Washington, D.C. (1896-1901), Boston (approximately 1901-1907) and New York City (approximately 1911-1939). In 1946, the American Philatelic Society inducted him into its Hall of Fame.

The addressee, Hermann August Kah resided in Baden-Baden, where he was married in 1885. It is known that they had no children. Not much is known about his collecting interests nor his philatelic involvement. However, one by one, the Kah covers returned to United States collectors.

The King of United States First Day Covers is illustrated. It sold at auction in January 2012 for $150,000 plus a 15% buyer's premium.


---
Virtual Stamp Club Home Page