John Paul On Stamps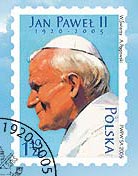 Besides the Vatican's Sede Vacante ["Vacant Seat"] stamps, Poland honored its native-son pope soon after his death. See discussion 18705 for details.

Perhaps the first to issue stamps honoring John Paul II was the Marshall Islands.

Austria followed on April 14.

And Israel is expected to issue a stamp for John Paul on May 3.

We'll have news about other countries' stamps honoring John Paul II and his successor, Benedict XVI, in our message board.


---
Virtual Stamp Club Home Page