Israel Reveals 5774 Holiday Stamps
Israel is noting this year's Jewish High Holy Days, which are the beginning of the Jewish New Year, with three stamps for Sukkot, the fall harvest festival. The year 5774 begins at sundown on the evening of September 4, 2013. Sukkot begins two weeks later.

>From Israel Post:

"During the Sukkot festival prayers worshippers bless the "four species", as instructed in the Book of Leviticus 23:40: "On the first day you shall take the product of citron trees, branches of palm trees, boughs of leafy trees and willows of the brook, and you shall rejoice before the Lord your God seven days". According to tradition, the unification of the four species – lulav (palm frond), hadas (myrtle), arava (willow) and etrog (citron) – in the worshipper's hands symbolizes the unification of the various groups within the Jewish people.

"The lulav is the largest and most prominent of the four species, thus the blessing over all four species is called "to bear the lulav". But it is the etrog, an extremely delicate citrus fruit, which garners the most attention. In order to perform the mitzvah [good deeds] properly, the etrog must be selected very carefully, making sure that it is perfectly shaped and examining it well to ensure it has no blemishes or defects, as this would disqualify it for the purposes of fulfilling the mitzvah.

"In order to protect the etrog throughout the days of the festival and especially to glorify and exalt the mitzvah, as it is written: "This is my God and I will glorify Him" (Exodus 15:2), it is customary to keep it in a special container which usually has a soft lining to provide even more protection. A plethora of different containers, bowls and boxes is used to protect etrogs. They are made from a wide and varying range of materials, from simple to precious metals, as well as various types of wood, fabric, glass, beads and more. Like other Judaica objects, such as Hanukkah lamps and spice boxes, they are rich and very diverse as far as manufacturing techniques and design.

"The three examples selected for the stamp series represent a small fraction of the diversity, wealth of shapes and imagination that have gone into designing and decorating etrog boxes."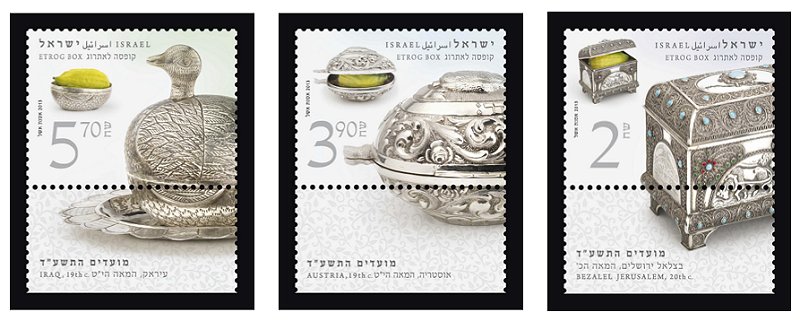 All three are in the Israel Museum collection.


---
Virtual Stamp Club Home Page