Canada Post's Power Play:
Fourth Set Of Hockey All-Stars To Be Honoured With Stamps
Ray Bourque, Mike Bossy, Serge Savard Stan Mikita, Frank Mahovlich and Bill Durnan drafted for Canada Post's All-Star list for 2003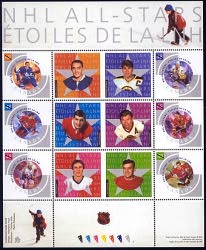 OTTAWA - For each of the past three years, Canada Post has issued sets of six stamps paying tribute to some of the greatest Canadian NHL All-Stars. Fans from across Canada and around the world have snapped up stamps and associated products featuring the likes of Wayne Gretzky, Maurice "Rocket" Richard, Gordie Howe and Guy Lafleur, among others. The Honourable André Ouellet, President and Chief Executive Officer of Canada Post, announced today that the 2003 set of stamps featuring six hockey all-stars greats was issued on January 18th, in anticipation of this year's NHL All-Star game in Sunrise, Florida. A total of six million stamps will be issued in both sheet and booklet formats.
This year's philatelic starting line-up will feature goaltender Bill Durnan; defencemen Serge Savard and Raymond Bourque; and forwards Mike Bossy, Frank Mahovlich and Stan Mikita.
[See more of the press release here]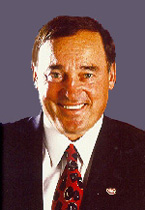 His hometown is excited that six-time Stanley Cup winner Frank Mahovlich is one of six former NHL All-Stars featured on the new stamps.
"Lots of people have been in looking at and buying the stamps," Schumacher, Ontario, Post Office postmaster Linette MacDonald told The Timmins Daily Press. "There is a lot of interest in Frank, even now."
Mahovlich, now a Canadian Senator, said he knew the honor was coming but was still taken aback when the stamp was finally released.
"My mind immediately went to a thought of my parents," he said. "When they came over to Canada...if someone had told them one day their son would have been featured on a stamp, they wouldn't have believed it. This is quite an honor."
"It's nice to see Frank honoured in such good company. He's a Schumacher boy and we're proud of him," said MacDonald.
Mahovlich was appointed to the Senate by Prime Minister Jean Chretien in June of 1998 and is a member of the Liberal Party. That's his official Parliament photo at right. The story, with a picture of Postmaster MacDonald holding a poster for the stamps, can be seen right here.
Where Are They Now?

Serge Savard



Savard is the Chairman of the Board of BioSyntech, and has been a director of BioSyntech since July 2001. The firm manufactures products for pharmaceutical drug delivery and tissue repair.
Web site

Stan Mikita



Mikita is a founder and manager of the American Impaired Hearing Hockey Association in Chicago, which operates the Stan Mikita Hockey School for the Hearing Impaired.
Web site

Mike Bossy



Bossy is a "business spokesman" through his Hall of Fame Sales Stars International, part of Mike Bossy Enterprises. His clients include GM Canada, Taylor-Made, Humpty-Dumpty Foods, and several high-tech firms.
Web site

Ray Bourque: We were not able to ascertain for this article what he is doing today.
---
Virtual Stamp Club Home Page