Over The Rainbow, Under Carnegie Hall
The Judy Garland Stamp First Day Ceremony
by Lloyd A. de Vries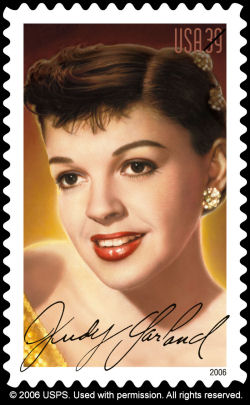 The Judy Garland first day ceremony, held on what would have been the entertainer's 84th birthday, may well have been the best I've ever attended — but it wasn't intended for stamp collectors.

But for fans, friends and family of someone honored on a postage stamp, it was great.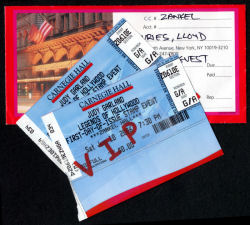 And there's no doubt that's who attended the Garland ceremony at Carnegie Hall's Zankel Hall, its smaller recital auditorium below street level. The audience applauded everything, from the introduction of the many guests to nearly every film clip.

Before the ceremony, the stamp was on sale and postmarks were available in the Carnegie Hall lobby. (See the photo below.) A number of stamp collectors, including some Virtual Stamp Club members, were there, servicing first day covers.

The press was told photographs and video could only be taken from the rear of the auditorium. No more than 30 minutes of video could be taken.

The first dozen rows of Zankel were reserved for VIPs and guests of the Postal Service. (My wife and I were in the latter category.) Unfortunately, there were many no-shows, particularly in the back rows of that section, where there was a gaping hole of about 15 seats spread over two rows.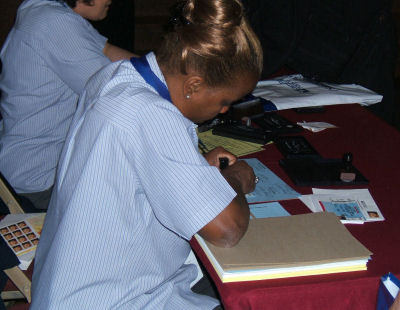 All the general admission seats were taken, and some were spread out additionally in the "box seats" — arm chairs in a single row along the first balcony stretching almost to the stage. Some of the seats up there, however, must have been reserved, also.

The program began with clips of Garland's most-famous movies, presented in chronological order (including her rarely-seen first full-length film "Pigskin Parade" (1936), which she disliked because she played a hillbilly). "The Wizard of Oz" (1939) scenes therefore were fairly early in the montage.

There was an extensive section from "A Star Is Born" (1954) and another from "Judgment at Nuremburg" (1961), for which she was nominated for Best Actress and Supporting Actress, respectively, Academy Awards. (She was nominated for both films for most of the other major awards, but only won the Golden Globe for "Star.")

Interestingly, throughout the mostly-musical program, there was a woman onstage signing for the deaf.

Then host Robert Osborne of Turner Classic Movies introduced one more clip from a film with Mickey Rooney, in which Garland admits she has a job as a mail carrier. Rooney, trying to score a kiss, says she's so pretty they're going to put her picture on a postage stamp.

Osborne related how he often went to her house during the "trouble period of the 1960s," and saw her elsewhere, and found her to be "zany," not "tragic." "She was always great fun to be around."

Later in the program, panelist Dick Cavett, who only met her once, lent some insight that might relate to that. After she appeared on his afternoon ABC talk show, in which he found her to be charming and warm, she remained in her dressing room for more than an hour after the show before reluctantly leaving. "Why would Judy Garland want to go back to the real world?"

Osborne noted that this 12th in the Legends of Hollywood series is the first stamp to be issued anywhere but in Southern California, but that Carnegie Hall, site of her legendary 1961 concert, was where the family wanted it.

Then the audience, full of professional singers, tried to sing along with postal worker Nedra Jones' pop rendition of "The Star-Spangled Banner." Mostly, they succeeded.

Osborne then introduced the honored guests: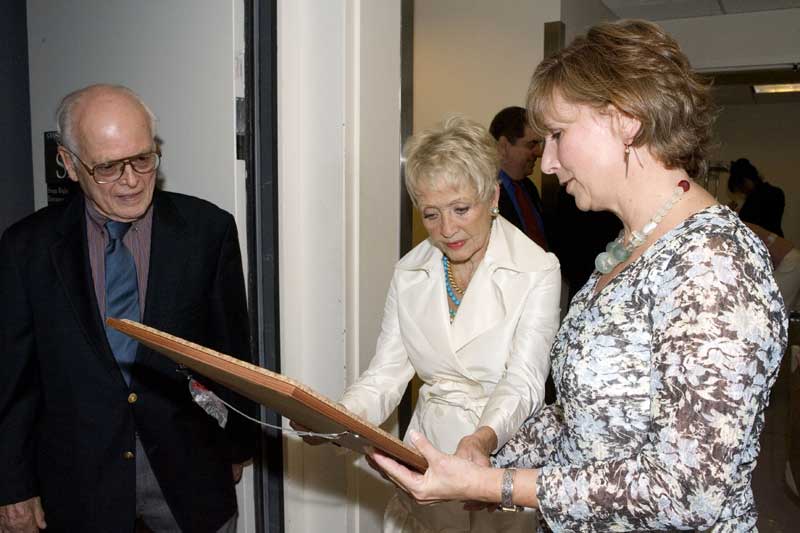 Photo by Felix Martinez, USPS. Used by permission.
©2006 U.S. Postal Service
"Little Rascals" actor Dickie Moore and actress Jane Powell admire a presentation plaque with USPS VP Anita Bizzotto. (You can click on this picture for a larger version.)
---
Garland's children Lorna and Joey Luft, her grandchildren Jesse and Vanessa Richards (all of whom were sitting in the second row), actress Arlene Dahl, child actor Dickie Moore of "The Little Rascals" shorts, Broadway director/performer Lee Roy Reams and actress Karen Ziemba, actress Kitty Carlisle Hart (who was sitting in a box seat near the stage, and wasn't on the program), playwright and female impersonator Charles Busch, author/historian John Fricke, and others.

Representing the U.S. Postal Service were Anita Bizzotto, Chief Marketing Officer and Executive Vice President; David Solomon, Area Vice President, Operations, New York Metro; Tim O'Brien, the artist for the stamp (and a VSC member), and the art director for the issue, Ethel Kessler. New York postmaster Vinnie Malloy, on the first-day program, was not introduced, although other postal people were.

As the guests took part in the program, they left their seats in the auditorium and returned after their segments.

In the panel discussion, Tony-winning playwright Terence McNally said he had attended the 1961 Carnegie Hall concert, somewhat reluctantly, thinking that only "semi-alcoholic gay men liked Judy Garland." and fell in love with Garland's performance. He also says the recording of that concert really captures the magic.

Actress Jane Powell, who was also under contract to MGM when Garland was there, admitted she didn't actually meet Garland until years later, since she was 14 and Garland was 21.

Dick Cavett tried a little too hard to be funny during and immediately after the panel discussion, in my opinion.

After the panel discussion, daughter Lorna Luft spoke, thanking the USPS "for this amazing honor. My mother would have loved this." She said the dictionary defines a legend as "someone who is half fiction and larger than life," and her mother certainly was. But she also said no one could tickle your back better than her mother and certainly no one could sing you to sleep better.

"My brother and I worked extraordinarily hard on this stamp," Luft said. Her brother did not speak during the ceremony.

"Happy birthday, Mama."

There was then a video from Garland's other daughter, Liza Minelli.

USPS marketing chief Bizzotto gave a good speech, noting that the recording of the Carnegie Hall concert won five Grammys (recording industry awards) and has never been out of print. She then called the children and grandchildren up on stage to unveil the blowup of the stamp. A projection of the entire pane of stamps was projected on the center screen, too.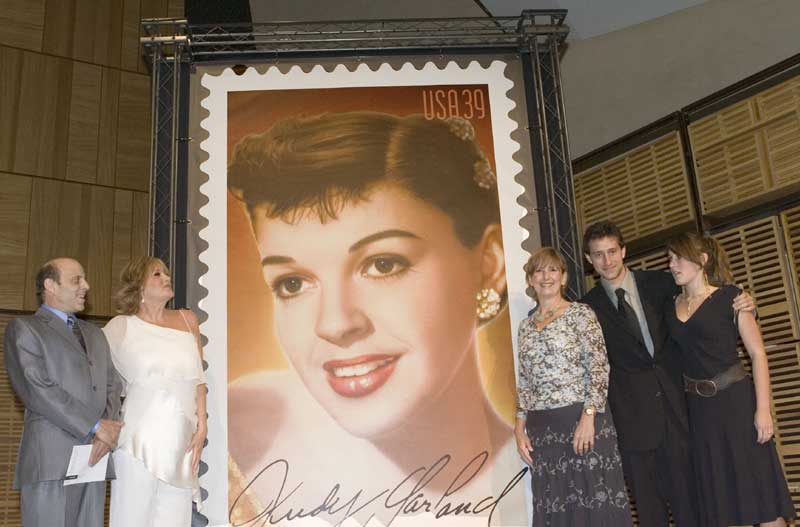 Photo by Felix Martinez, USPS. Used by permission.
©2006 U.S. Postal Service
Joey Luft, Lorna Luft, Anita Bizzotto, and Jesse and Vanessa Richards after the stamp was unveiled. (You can click on this picture for a larger view.)
---
"Isn't it pretty?" interjected Lorna Luft.

Although we were told no photographs would be allowed, except from the back of the auditorium, there were many flashes from much further forward as the drape was pulled off the image. From that point on, the picture-taking continued, until after the ceremony, when a tough Carnegie Hall usher tried to stop someone from taking a picture of the blowup.

Then there were the musical performances. Jazz singer Diane Schuur, we were told, was playing hooky from her Blue Note performances. Schuur thanked Luft for inviting her, then sang "Them There Eyes."

Rufus Wainright, who will be doing a Judy Garland show at Carnegie Hall this week, sang "My Old Kentucky Home," with which Garland closed the Bluegrass Festival at the Kentucky Derby in 1953. His mother accompanied him and sang harmony.

Singer, musical historian and nightclub owner Michael Feinstein said nobody wanted to compete with Garland and sing one of her songs. But he noted that composers, including Jerry Herman ("Hello Dolly" and "Mame") continued to write songs for Garland even after her death. Feinstein sang "I Honestly Love You" by Peter Allen, although he didn't note that, for awhile, Allen was Garland's son-in-law.

By this point, by the way, I noticed that Kitty Carlisle Hart had left.

Then it was Lorna Luft's turn, accompanied by her husband, Colin Freeman.

Her performance was followed by a montage of concert and television clips to show the power of her concert performances. The (live) audience was enthusiastic, although when the compilation was over, one woman behind me asked, "No 'Over The Rainbow?'"

Indeed, except for "The Wizard Of Oz" scenes early in the program (including practically the entire song from the movie), and some closing music for a TV show at the end, Garland's signature song, one she used in concerts, radio and television forever after the movie, wasn't part of the evening.

But what a first day ceremony it was! It celebrated the life and art of the person being honored on the stamp and the stamp was mentioned fairly often. Who could ask for anything more?


---
Here are some more pictures from the ceremony: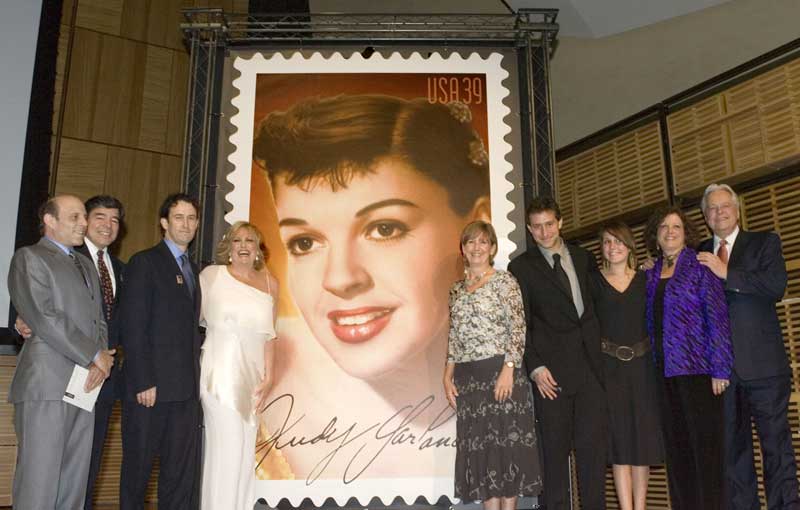 Photo by Felix Martinez, USPS. Used by permission.
©2006 U.S. Postal Service
Joey and Lorna Luft flank the USPS New York-area operations VP David Solomon and stamp artist Tim O'Brien. To the right of Anita Bizzotto and Judy Garland's grandchildren Jesse and Vanessa Richards are the stamp's art director Ethel Kessler and ceremony host Robert Osborne.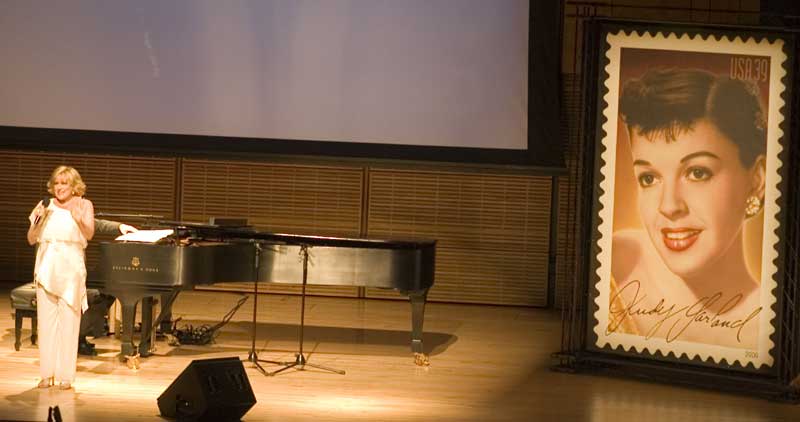 Photo by Felix Martinez, USPS. Used by permission.
©2006 U.S. Postal Service
Lorna Luft sings at the first day ceremony for the stamp honoring her mother, Judy Garland.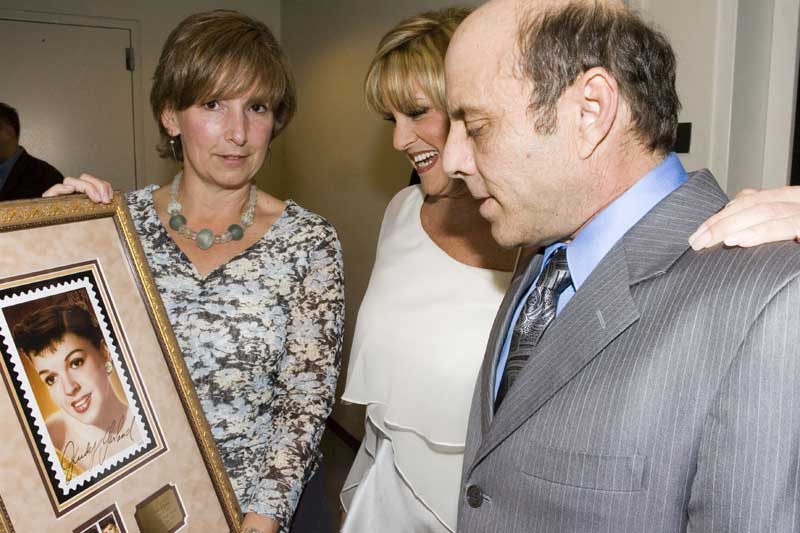 Photo by Felix Martinez, USPS. Used by permission.
©2006 U.S. Postal Service
USPS VP Anita Bizzotto shows a presentation plaque of the Judy Garland stamp to Lorna and Joey Luft after the first day ceremony.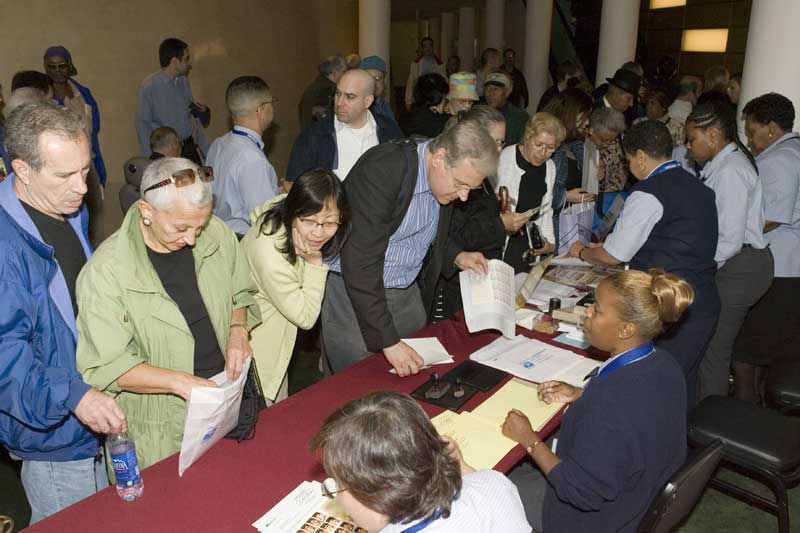 Photo by Felix Martinez, USPS. Used by permission.
©2006 U.S. Postal Service
Another view of the Judy Garland stamp on sale in the lobby of Carnegie Hall.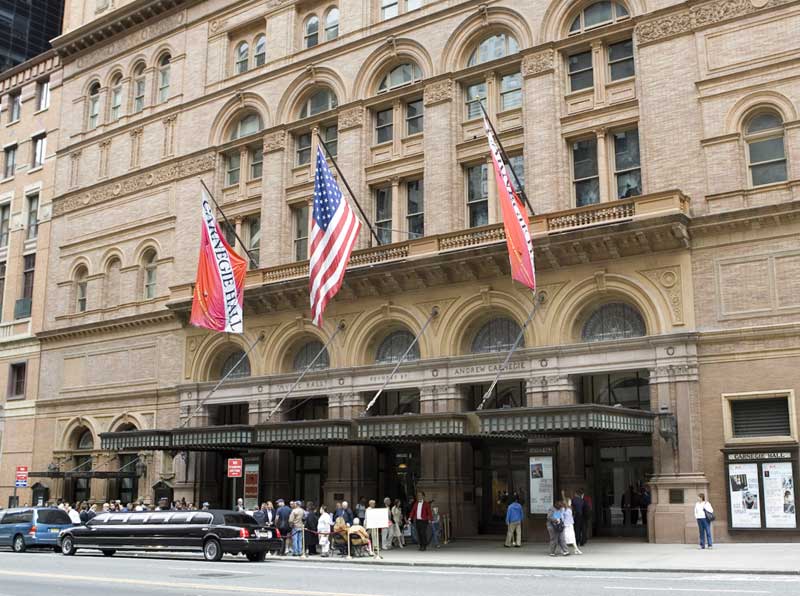 Photo by Felix Martinez, USPS. Used by permission.
©2006 U.S. Postal Service
How do you get to Carnegie Hall? A new answer is "collect stamps."
©2006 The Virtual Stamp Club
---
The Judy Garland stamp discussion in our message board
More pictures from first-day servicing in the lobby
---
Virtual Stamp Club Home Page