Click Pictures for Larger View
Truly A Railroad First Day Cover: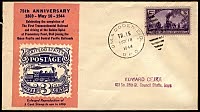 This for me was a highlight of AmeriStamp Expo 2000 in Oregon: I found it in a $1 box!
It's got a Railway Post Office cancel (RPO) on the first day of issue for Sc. 922, the 75th Anniversary of the Transcontinental Railway, plus a printed cachet. I'm not sure how to translate the RPO cancel: It looks like "Omaha & Ogden E.D." Omaha, Nebraska, and Ogden, Utah, were two of the first day cities. (San Francisco was the third.) The 2000 U.S. Scott First Day Cover Catalogue & Checklist prices one of those cities at $8.50, but no price is given for an "unofficial" city cancel, much less an RPO.
To be honest, there's a tear from the flap down and a bit of paper sliver sticking out to the left of the cachet, but who cares? I'm very pleased with my acquisition.

Souvenir of an Education Trip: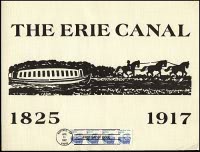 In April of 1987, I finished my Bachelor's degree in Television-Radio at Syracuse University. This wouldn't be especially notable, except for the fact that I was Class of '75 :)
After taking my final final exam on a special trip to Syracuse, I had some time to kill before my flight back to New Jersey, so I went to the Erie Canal Museum in downtown Syracuse, located, appropriately enough, on Erie Boulevard (which had once been the canal).
While browsing in the gift shop, I spotted some 8.5" x 11" handbills - heavy paper with what appears to be a woodcut of a canal boat and the dates of operation for the Canal. Knowing that the Canal Boat coil (Sc. 2257) had just been issued, I picked up a few of these posters, and headed for the airport.
That's why I say it's important for a "Weird Stuff" FDC collector to keep the U.S. stamp schedule in his head!

I'm glad I was able to make this souvenir of my trip to Syracuse, because you know what difference obtaining my B.S. has made in my life? Practically none.
Click Here More FDC Fun
Lloyd A. de Vries
©2000 de Vries Philatelic Media
---
Virtual Stamp Club Home Page