Click Pictures for a Larger View



There's no real theme to this edition of Lloyd's Fun FDCs, except I found them to be ... fun.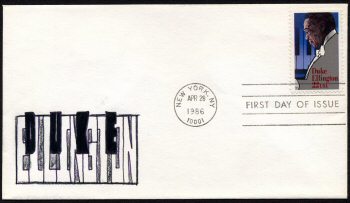 Tony Ciccolella is one of my favorite cachetmakers, although he didn't produce first day covers very long. At the time, Tony was a grad student in art. All his cachet art was hand-produced, but not necessarily hand-painted: He used a variety of media, from paint to appliqué to colored pencils. And the designs were more than just good representations, they were clever. This is his FDC for Sc. 2211 Duke Ellington. It's signed on the back.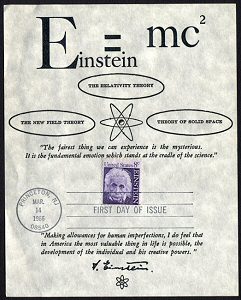 This is one of many 4¼- by 5½-inch sheets produced by a man whose name escapes me now — older, tall, fairly thin, and he spoke with an Eastern European accent. His first name was Joseph and he lived in the New York area. They were usually thermographed, as this one for Sc. 1285 Albert Einstein was.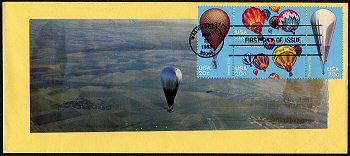 In 1978, Sports Illustrated commemorated the first success trans-Atlantic flight of a hot air balloon by the Double Eagle II with a front-cover article. The story featured many color photos of the balloon during its historic voyage. Five years later, the U.S. issued a block of four Hot Air Balloons stamps. I obtained 12 more copies of the SI issue — all that Time-Life would sell me — and pasted the pictures onto envelopes and posterboard. One of the latter cards is shown in Lloyd's Fun FDCs #38; here's one where the illustration fit perfectly onto a No. 10 envelope.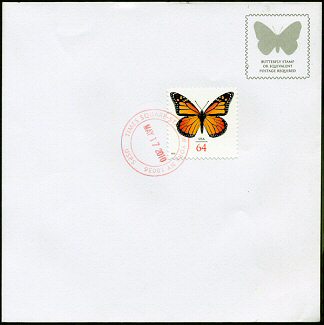 The USPS has been charging an extra 20¢ for odd-shaped envelopes, such as those used for greeting cards, and has had stamps for that rate before. Few people paid it correctly, either underpaying the postage for these cards at the regular letter rate, or overpaying it by putting two stamps on the card envelopes. But in 2010, the USPS and the Greeting Cards Association came up with an idea that they hope will lessen the confusion: Greeting card manufacturers will put a butterfly icon on envelopes that will need the surcharge, and the USPS will issue butterfly stamps. The first such stamp was issued in May 2010, during the annual convention of the GCA. However, during a trip around the GCA trade show at the Javits Centre in New York, only one vendor had envelopes with the new butterfly icons — and they weren't packaged with any cards. They were free for the taking, though, so I did, and had the cards serviced with the Times Square Station plug cancel.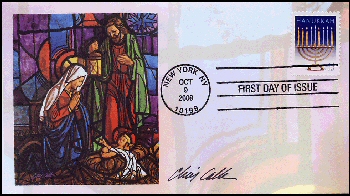 Each year, the American First Day Cover Society honors a cachet artist for his body of work by asking him to design a cover for that year's Christmas stamps. The 2009 Court of Honor FDC is real beauty by professional artist and FDC collector Chris Calle, showing a stained glass window depicting the Madonna and Child. But servicing that cachet with the 2009 Hanukkah stamp (or the new-rate Muslim-holiday Eid stamp) struck me as funny. Still does, in fact. But I'm told they sell fairly well. You can order this one, or the same cachet with any of the other 2009 holiday stamps, on the AFDCS website.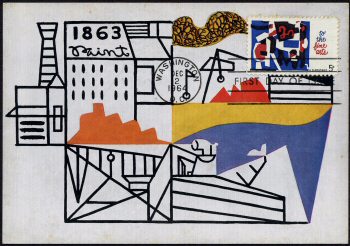 A maximum card I purchased for the 1964 Fine Arts stamp, Sc. 1259. Neither the stamp's design nor that of the card makes much sense to me, which I guess is a form of concordance.



Click Here For More FDC Fun





Lloyd A. de Vries
©2010 de Vries Philatelic Media


---
Virtual Stamp Club Home Page