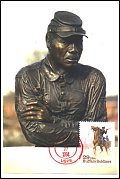 Buffalo Soldiers
This is a matte-finish photo of the Buffalo Soldiers Monument in Leavenworth, Kansas. Although the "main" first day city on April 22, 1994, was Dallas, the stamp and special cancels were also available at three forts where these African-American cavalrymen were based -- including Fort Leavenworth. The cancel shown here, though, is a regular red registry plug, probably because the pictorial cancel wouldn't fit.
Matte-finish photos hold the cancellation ink and water-activated stamps well -- much better than glossy-finish photos or picture postcards.
I don't know who serviced these (and I've seen them from several cities), but I'll take my kepi off to him or her!
Ayn Rand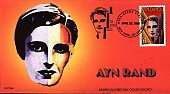 A stunning design for a Ayn Rand first day cover cachet, but not half as stunned as the American First Day Cover Society was when it realized the design that had been contributed to it used elements of the stamp design without permission. The cachets were pulled off sale before the stamp was issued and AFDCS serviced any of the envelopes, but not before a fair number had reached the hands of individual collectors and dealers, who were free to service them.
Click Here More FDC Fun
Lloyd A. de Vries
©1999 de Vries Philatelic Media
---
Virtual Stamp Club Home Page