Eid Stamp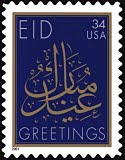 The Eid Muslim holiday stamp has proven popular enough to warrant its reissue at the new first-class rate, USPS stamp development chief Terry McCaffrey told philatelic reporters Friday. The Muslim-American community had been concerned the stamp would not make the cut, and has been encouraging its members to buy it.

"It has become part of our holiday celebrations series," chief stamp developer Terry McCaffrey told The Virtual Stamp Club, "and like Hanukkah and Kwanzaa, it will be issued for the new rate change."

The Kwanzaa and Hanukkah stamps are reissued each time the rates go up. Cinco de Mayo was reissued at first, but its popularity then dropped 'way off, and it was stopped.

VSC members scoff at the idea that sales were the sole factor in continuing the Eid stamp.

"I believe it would have been reissued even if they only sold 10% of the printed run," said one. "There was too much pressure put on them about this stamp, and they probably don't want to deal with justifying why they did not reissue the stamp."

Still, despite the charges of "political correctness," said another, "in this case, I agree that the stamp should be reissued."

The Eid stamp, celebrating Muslim holidays and part of the overall U.S. Postal Service Holidays series, was issued September 1, just 10 days before the terrorism attacks on the World Trade Center and Pentagon. There was backlash against the stamp. Some clerks tried not to sell the stamp, some customers refused to buy it, and one conservative think tank even called for its recall.

Muslim-American interest groups fought back by encouraging their members to buy more of the stamp. It worked. After the next rate increase, expect to see a new version of the blue-and-gold Eid stamp, at the new first-class rate.

Join our discussion in the VSC Message Board.
---
Virtual Stamp Club Home Page