Disney Celebrates Disney
By Bonnie Fuson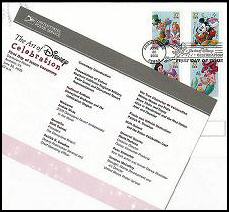 The first day ceremony program

SUPERCALIFRAGILISTICEXPIALIDOCIOUS!

This time they really did it right. Both the U. S. Postal Service and Disney threw a great philatelic party June 30th at Disneyland in Anaheim, CA, marking the issuance of four new Disney stamps, the second set in a series of three. The stamps, with the theme "The Art of Celebration," show Mickey and Pluto, Ariel and Flounder, Alice and the Mad Hatter, and Snow White and Dopey whooping it up in individual party scenes.

Stamps went on sale at 8 a.m. under a special tent just outside Disneyland's main gate, along with a variety of related materials — cacheted envelopes, key chains, canvass totes, postcards, Disney Dollars, T-shirts, whatever. Pre-cancelled items could be purchased with the First Day cancel in color. An adjacent tent housed cancellers servicing the needs of the stamp-buying public. A similar facility, sans the USPS products, operated inside the park in the area formerly devoted to the sale of Carnation ice cream.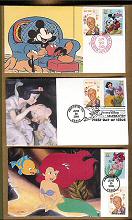 There were three postmarks available at the ceremony.

There were three cancels available to those with their own envelopes-the pictorial First Day cancel showing Tinker Bell in black ink, the black "bullseye," and (at the entrance philatelic set-up only) a round, red dater. (Only post office personnel did the canceling, however.)

According to a former postal employee, most of the Southern California PO divisions were represented in the support staff, including employees from Santa Ana, Los Angeles, Long Beach, San Diego, West Covina and Van Nuys. Four cancellors (two at each station) were from headquarters in Kansas City. Many in postal management circles were in attendance.

At 10 a.m. a lively and musical First Day Ceremony took off on a stage set up in front of Sleeping Beauty's Castle. VIP guests (seated in rows of white chairs), invited guests (standing on sides and behind chairs facing the stage) and interested park visitors (peeking over the heads of the aforementioned attendees) gathered for the entertainment. Presentation of Colors was conducted by the Southern California Regional Military Color Guard and Disneyland Resort Representatives. (Last year's Michael Eisner was conspicuous by his absence.) The National Anthem was enthusiastically performed by the Disneyland Orchestra and the Celebration Singers. 2005 Disneyland Resort Ambassador to the World Andrae Rivas (yes, that's his title), welcomed guests and introduced Matt Ouimet, Disneyland Resort president, and Deputy Postmaster General and Chief Operating Officer Patrick R. Donahoe (yes, that's his title), who described Walt Disney's longtime connection to the postal service.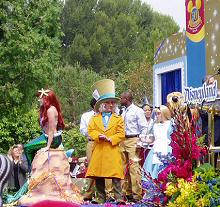 Alice and the Mad Hatter come forward as their stamp is unveiled.

Donahoe said that in the summer of 1918, Walt Disney, who was then only 16 years old, applied for a job as a letter carrier with the post office in Chicago. They turned him down because he was too young. Nothing daunted, Walt went home and put on make-up to age himself. He re-applied the next day and the same guy who had turned him down before, hired him. Walt worked as a letter carrier the rest of the summer, until school started, but his brother, Herb, worked as a mail carrier in Chicago for 37 years. Referring to his hiring, Walt is supposed to have said, "It's kinda fun to do the impossible."

To reveal the design of each stamp, the Disney characters illustrated were revealed in their stamp poses one by one, coming to life on stage with music and happy dancing. Donahoe then introduced three honored guests who created the stamps-David Pacheco, Creative Director of Disney Consumer Products, senior character artist who served as creative director of the stamps; Peter Emmerich, New York artist and former Disney illustrator; and Terrance (Terry) McCaffrey, Manager, Stamp Development and Art Director, USPS, who was art director of the project.

Stamp sales and canceling continued all day in the park and into the early evening. Umbrella tables and chairs accommodated collectors and cachet makers adjacent to the Carnation site. It was a great party!



More Disney Pictures!
| | | |
| --- | --- | --- |
| The color postmark available for this issue only on USPS-produced FDCs. | The Disney Dollar was sold pre-canceled. | Cacheted envelopes sold by Disney. |
| The flag ceremony at the first day of issue. | Snow White and Dopey come forward as their stamp is unveiled. | Mickey, Pluto and assorted dignitaries unveil the stamps. |
| | |
| --- | --- |
| An invitation to the first day ceremony at Disneyland. | The designs were also available as the indicia of picture postcards. The Alice in Wonderland card is shown here serviced as a combination with the 37¢ stamp and the 1969 Walt Disney stamp. |
---
Virtual Stamp Club Home Page