A Push For A Corvette Stamp
Next year is the 50th anniversary of the Chevrolet Corvette auto, and aficionados are calling for a stamp.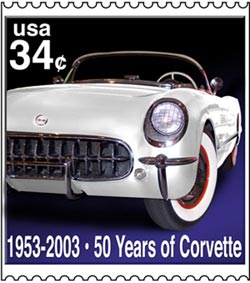 There's a Web site and even a mock-up of the stamp, shown at the right.

Friday is "Drive Your Corvette to Work Day" and the car owners will use that as a kick-off to gather even more than the 20,000 signatures they already have.

Oh, wait, not just one stamp, but several:

"It's an initiative to get the Corvette sports car memorialized on a series of U.S. Postage stamps in 2003, during its 50th Anniversary year," said Mike Yager, president and founder of an Illinois mail order company that specializes in Corvette merchandise.

The biggest hurdle facing the Corvette stamp is time. The 50th anniversary is 2003; that stamp program is set already, and there's usually a three-year lead time for stamps.

Yager, who has a swimming pool in the shape of a Chevy bow-tie, won't be deterred.

"We think we can do this," he said.

Corvette Stampede petitions will be circulated at various locations across the country, including the Petersen Automotive Museum in Los Angeles; the National Corvette Museum in Bowling Green, Ky.; the St. Louis Art Museum; and Dimmit Chevrolet in Clearwater, Fla.


---
Virtual Stamp Club Home Page