Busiest Mailing Day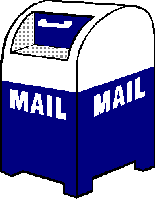 Monday, December 16th, is expected to be the busiest mailing day of the year, but there are ways to make sending your cards, letters and packages easier.
One way to save time is to have your mail ready to go before you get to the post office, packages wrapped securely with tape — no strings attached. Also, Postal Service Chief Operating Officer Pat Donahoe says go during off-hours.
"It might be a good idea if you can get there in the mid-morning or the mid-afternoon to avoid the lunch crowd and the after-work crowd," he told The Virtual Stamp Club.
If all you need is stamps, says Donahoe, you don't even need to go to a post office: There are 60,000 other outlets in which to buy them.
"We've got stamps in supermarkets, drugstores, convenience stores," he said. "You can get stamps in over 17,000 ATMs."
You can also look up rates and zip codes on the Internet at www.usps.com. Proper addresses are important. So is good packaging.
"If you use a strong box, tape it up and address it correctly," he said. "That puts you in real good shape."
Just don't use string: It may catch in the postal equipment.
Just in case your package is damaged, "put your name and address on a card inside the package itself," said Donahoe.
And in case you're not ready to send your gifts on Monday, Donahoe says the Postal Service can play Santa for you.
"On December 21st, we can accept packages that would be going across the country for delivery on Christmas Eve and Christmas Day," he said.
Some of postal people, in fact, will be dressed up as Santa!
Download an mp3 audio version of this story here.
Also see our article "Postmaster General Marshals Forces".
---
Virtual Stamp Club Home Page