Australia's Most Valuable Stamp
on Public Display for First Time
at "Australia 99" World Stamp Expo!
By Glen Stephens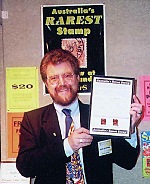 The recent Auction sale of the unique USA 1¢ blue "Z" grill to Mystic Stamp Company of New York for $US935,000 has been internationally reported.
That stamp was of course a relatively recent discovery. It was only found in 1957, and first sold in 1975, realising $US42,500.
A similar new find in Australia has matched the "Z" grill story rather closely. It is the most sensational stamp discovery story in our region for the past 50 years. Five months ago this stamp had never been reported as existing.
It is now the most valuable Australian Commonwealth stamp ever issued.
TASMANIAN HITS THE JACKPOT
The market leading Australasian Stamps monthly magazine ran a detailed article on official use "OS" overprints on Australian stamps in October and November 1998. A collector named Jim Manson in Tasmania read the article with interest.
Manson checked one of his copies of the 5d brown King George head overprinted with the letters "OS." It was not Stanley Gibbons number 0132 as all other copies are. His stamp was on "type 7" watermark paper, showing multiple crown and small A. It was a totally unrecorded stamp.
Manson is a senior member of the Tasmanian Philatelic Society. He had soaked the stamp off a piece of an official "OHMS" envelope that he had owned for many years, which had cost him next to nothing to obtain as he recalls, in a box of junk. He took his stamp to a regular Society meeting. Leading collectors and dealers present all agreed with him. The stamp, if genuine, was something that had never been recorded.
The new discovery was then sent to leading stamp expert Dr. Geoffrey Kellow in Melbourne, for a more detailed examination.
Kellow is Associate Editor of Australasian Stamps magazine. He is also President of the Royal Philatelic Society of Victoria, and an award winning philatelic author. He owns the world's largest reference library on Australasian stamps, which fills a large room in library type floor to ceiling shelving bays.
More importantly, Kellow is editor of the huge six volume reference opus "The Australian Commonwealth Specialists' Catalogue" and universally regarded as the leading authority on Australian postage stamps.
STAMP, OVERPRINT, CANCEL ALL GENUINE
Dr. Kellow conducted extensive research on this used 5d KGV stamp. By detailed plating of the stamp's known position in the issued sheet, and by minute examination of the overprint position using a reference stamp sheet in the Australia Post archives, Kellow determined three things. The stamp and the overprint and the 1932 cancel were all genuine.
Furthermore, by the plating of the overprint, it was obvious the stamp (Stanley Gibbons 103a) had been officially "inserted" or re-positioned into a sheet of regular 5d, Stanley Gibbons 130 to repair a fault with an existing stamp in that sheet position.
As was Australian stamp printer policy, such "officially repaired" sheets were not sold to the public, but perforated or overprinted OS (Official Service) for government mail use. Thus the repaired sheet was later overprinted, to create SG 0132.
Kellow wrote a very detailed 2 page cover story in the February 1999 edition of Australasian Stamps magazine, detailing his research, and stating he felt the item was genuine. On February 11th, after very careful scrutiny, the RPSV issued a Certificate for this stamp.
OFFICIAL POST OFFICE REPAIR
In the intervening period since the publication of that magazine, no other copy of the 5d "OS" has been reported to the stamp trade or the magazine. I reported this discovery recently on the front page of "Linn's." It was not unusual for official "repairs" to involve only one stamp, re-inserted into the PO sheet from the reverse side, by using four tiny pieces of gummed selvedge paper.
This is precisely how the unique 6d Kangaroo inverted "OS" overprint (SG 0135a, valued at £4,250) was created. That stamps which is CTO with gum, still has small selvedge pieces on all 4 corners. For some odd reason, Scott do not list that variety.
It is thought that this 5d "OS" stamp may very well be unique, especially as the dated 1932 cancel indicates no other has been reported for 67 years, despite the Australian KGV head series being one of the most heavily studied stamp issues on earth.
Dr. Kellow conducted detailed research into the PO archives, and discovered that the substitution of the wrong watermark by the PO in early 1932 was entirely possible, and consistent with stocks on hand at that time.
EXHIBITED AT "AUSTRALIA 99"
Stamp owner Manson agreed to allow the stamp to be publicly exhibited for the first time at the huge "Australia 99" World Stamp Expo held in Melbourne March 19-24. The stamp was on display under glass at Booth 27D, occupied by the Australasian Stamps magazine. Insurance cover for $50,000 was taken with Lloyds of London for the stamp.
The show was the most successful international anyone can recall. With a crowd of around 100,000 people for a 6 day it made "Pacific 97" look like chicken feed. Pacific ran for 11 days, and got a similar "real" crowd but the USA with a population 15 times larger than Australia should have done 15 or 25 times better comparatively in terms of numbers.
The photo above shows me holding the stamps.
Large crowds gathered to "eyeball" this major rarity found in a box of junk. The owner wants to keep it, so it may never be displayed again for decades in public. Leading dealers I showed it to all agreed it was easily Australia's most valuable stamp. I understand Scott will now list this stamp as Australia #015.
The state newspaper in Tasmania, The Hobart Mercury, ran a large feature story on the lucky owner on page 3, on February 3rd. A reporter from that newspaper got clearance from Australasian Stamps magazine to quote from the discovery article, and the story ran with a large photo of the owner, holding a copy of the magazine.
The finder, Jim Manson, has since done TV interviews, and has received a number of phone calls about his find. Now a Certificate has been issued, verifying the stamp is entirely genuine, Manson is confident a number of national media outlets will follow up on the story. This discovery has caused a buzz of excitement right throughout the stamp business in Australia. The "Mercury" article caused a near riot in Hobart philatelic circles. Rod Newell, manager of "The Stamp Place" retail shop, the largest dealer in that state, told me he sold out of copies of the February Australasian Stamps magazine within hours of the story appearing, and more copies hastily were air freighted down to him to replenish stock.
Newell received numerous calls from collectors certain they, too, owned a copy of this stamp. One caller convinced Newell he was genuine. Yes, it was a 5d brown KGV head. Yes it had a 1932 postmark. Yes, it was on watermarked paper with a small crown alternating with a small A.
This collector made a frantic dash across town with his "rarity" and burst breathlessly into the shop clutching his treasure. Everything checked out - correct value, postmark and watermark .... only trouble was there was no "OS" overprint! The stamp was the common 5d brown, SG 103a, retail price a couple of dollars.
Trevor Ross and Ross Ewington of Tasmania Stamp Auctions in Hobart tell me they have both sighted the stamp, and also feel it is genuine. They too fielded numerous calls from members of the public after the article appeared.
FORENSIC ANALYSIS
I understand the 5d stamp was examined with mega-expensive hi-tech equipment by a very experienced forensic specialist who works for the Victorian Police force, to verify the overprint and postmark were both contemporary. This analysis was used by the RPSV to assist in deciding whether a Certificate would be issued.
Stamp owner is Jim Manson, of Berriedale, a suburb of Hobart. Mr. Manson is a serving alderman on the Glenorchy City Council. He is an ex-footballer of note and father of the giant Collingwood Magpies major league star James Manson, familiar to all followers of "Aussie Rules" football. James Manson played in the Collingwood AFL premiership team in 1990, the first "Magpie" flag in 32 years.
Had this stamp been offered in one of the two massive "Australia 99" auctions on March 18, in my opinion it would have easily realised $20,000-$25,000. No other copy has been reported at the time of writing, despite the extensive national publicity, in the philatelic and lay press.
A $50,000 NEW DISCOVERY?
It is also my view that if the stamp remains unique it will gain very rapidly in value. This stamp should in due course be listed in catalogues around the world with a "full" catalogue number. Stamp album manufacturers should also eventually allow provision for it on pre-printed pages. In a few years a value of $50,000 or considerably higher is likely. If a USA "Z" grill is worth $US935,000, what is Australia's rarest stamp worth? Australia is a very popular country with collectors all over the globe. Remember the "Z" grill, then known to be unique, sold for only $US42,500 in 1975.
I asked leading Australian stamp dealer Simon Dunkerley what his view was on the value of this stamp. Mr. Dunkerely runs a large business selling Austrlaian rarities and error stamps, and has a booth at "Australia 99." Dunkerley said today: "This is the without doubt the most valuable Australian Commonwealth stamp issue. It is most exciting that something as rare as this item can lie undiscovered for 67 years."
As a price comparison, the British Government issued stamps overprinted "I.R.Official" which can sell bring big money. The 1904 6d purple KEVII with this overprint exists in dozens of copies, yet is catalogued by Stanley Gibbons as SG 023 at £85,000 mint or £65,000 cancelled.
The most valuable stamp from the Australian region is the famous Western Australia 4d blue "Inverted Swan." Despite 14 genuine examples known to exist, this stamp sells for prices up to $A135,000 . However, as Australian Commonwealth stamps were not issued until 1913, it is not regarded by collectors as an "Australian" stamp.
The most valuable stamp in the world is the apparently unique British Guiana 1c black on Magenta. It is owned by American billionaire John E. du Pont, presently serving a 30 year prison term in the USA for murder. This stamp, despite being damaged and repaired, if sold today would realise about $A5 million, making it the most valuable item on earth for its size and weight.
There is little doubt that the 5d "OS" will be subsequently listed as Stanley Gibbons 0137 and Scott 015. That being the case, and assuming no others turn up, it will be Australia's only unique postage stamp. Australia's very own "Z" Grill.
It is appropriate for Dr. Geoffrey Kellow to have the last word, as his detailed original research paved the way for the acceptance of this as a totally genuine, but hitherto unreported Post Office stamp issue. He said: "at the moment this 5d "OS" stamp is unique. It stands, to my mind, as easily the most important Australian Commonwealth stamp known, in terms of rarity."
"There are a number of other unique Australian stamps, of course, but these are all production errors. This is a stamp that deserves a full catalog number. In Stanley Gibbons, I suggest that number would be SG 0137, and date of issue would of course be shown as 1932, matching the postmark on this example."
The last word in philately is truly never written.
Glen Stephens is a stamp dealer and philatelic journalist, based in Castlecrag, Sydney, Australia. For more information on contents, rates, all the $40 of FREE Mint stamps and how to enter a subscription to the superb Australasian Stamps glossy magazine, check the magazine icon on his website www.GlenStephens.com.
©1999 Glen Stephens
---
Virtual Stamp Club Home Page