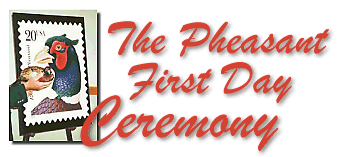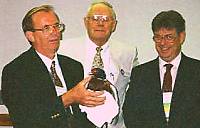 Rockport Pheasant Farm superintendent Jim Ackerman shows Phred the Pheasant to American First Day Cover Society president Tom Foust and AMERICOVER '98 chairman Steve Ripley.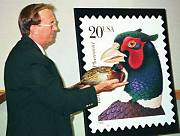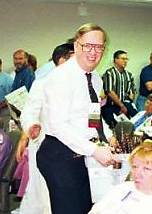 Phred the Pheasant (left) gets a birds-eye view of the new 20c Ring-Necked Pheasant Stamp at the first day ceremony.
AMERICOVER committee member and VSC participant Foster Miller (right) hands out pheasant feathers before the first day ceremony for the 20c Ring-Necked Pheasant stamp. "Somehow, I can't imagine APS giving out pheasant feathers," he quipped. "This organization always comes up with something different."
Click here for a list of Awards and Exhibitors
Text and Photos © 1998 Lloyd de Vries
---
Virtual Stamp Club Home Page