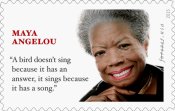 History, Love, Celebrations. New information is coming in almost daily. Check out our 2015 stamp program -- the best free 2015 stamp schedule listing online. And leave your comments, too, in each issue's "Discuss" page.



Last Updated: May 18 - Flannery O'Connor stamp added.

First Day Ceremony photo essays:
---


Cataloguing The Collectors
Columnist John Hotchner finds philatelic people watching very amusing.

---
Canada Honors Famous Poem
"In Flanders Fields" was written by a Canadian combat surgeon 100 years ago during World War I. Today, "In Flanders Fields" is virtually synonymous with the War To End All Wars. The story is here.
---
Israel's WWI Mule Corps
The British wouldn't let Palestinian Jews form a combat unit. Instead, they became a transportation unit. The story, and stamp, are here.
---

I May Not Know Art...
...but I know an argument about art and design when I see one. Some thoughts about an online argument in the latest LloydBlog.
---
USPS Considers Drones
No, not postal workers just going through the motions until quitting time, but small aircraft without pilots. The story here.
---


Why Join A Stamp Society Or Club?
Veteran philatelic observer Dick Sine says there are many reasons to do so… and quite a few why not!

---


Going The Extra Mile
An American first day cover collector goes to Japan for its part of the Gifts of Friendship issuance.

---


Dinosaurs Come to Life In Canada
On its stamps, at least. Details here.

---
How Stamps Are Made
A British look at how U.S. stamps are printed and produced.





---
Lloyd's Fun FDCs!
Volume 45 - ArtCraft
Its cachets are "not your father's Oldsmobile." The designs are bright, colorful and contemporary.

---
Durland 2014 Supplement
Now Available!
The supplement, plus the 2012 edition of this catalogue, are the definitive reference for plate number collectors. Order them individually or together here.
---
Looking for Delphi's Stamp Collecting Forum?
Click here to reach it.
And here's the reason for the change.
---

"Help! I just inherited this stamp collection!"


Just been given Aunt Matilda's old stamp collection and don't know what to do with it? We can help.

---
Unique Stamp Collecting Bookstore
We have philatelic books in our bookstore you won't find anywhere else on the Internet, including publications from the U.S. Stamp Society, and John Hotchner.

---
Quotable:
"I can't believe this many people showed up to a stamp dedication."
"This is something different."


— two people overheard by the Washington Post at the Maya Angelou stamp ceremony.
---
Last Updated May 22, 2015

---