Janet Joplin design revealed. See it here.



Our 2014 U.S. Stamp Program has just been updated.



Korean War Medal of Honor
Photos from the first day ceremony can be seen here.



Feel free to comment in our U.S. 2014 blog section, indexed through the stamp program page.

---
Piazza is Museum's New Stamps Chief
Daniel Piazza will head the philatelic portion of the Smithsonian's National Postal Museum in Washington. Details here.
---

Organizng Covers
It may often feel like herding cats, but it can be done, and columnist John Hotchner tells how.

---


What's Your Collection Worth?
Columnist Dick Sine provides a reality check.

---
Future Issue: Pickup Trucks
The best-selling vehicle in America is a pickup truck (the Ford F-150), so it doesn't surprise The Virtual Stamp Club to learn that a set of stamps featuring these workhorses is on the docket.
---
Britain Remembers The Great War
Six stamps and assorted postal products commemorate World War I. Details here.
---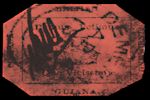 Stamp Superstar Sets Record
One-cent British Guiana "Magenta" sells for US$9.48 million, more than ten times its purchase price 34 years ago. Details here.

---
Discretion Is The Better Part of Collector Valour
Sometimes stamp collectors just have to bite their tongues in post office lobbies. The latest LloydBlog has the story.
---
Durland 2014 Supplement
Now Available!
The supplement, plus the 2012 edition of this catalogue, are the definitive reference for plate number collectors. Order them individually or together here.
---
Looking for Delphi's Stamp Collecting Forum?
Click here to reach it.
And here's the reason for the change.
---
Lloyd's Fun FDCs!
Volume 44 - Souvenirs
A Flag for All Seasons souvenirs from APS StampShow and AFDCS' Americover.

---

"Help! I just inherited this stamp collection!"


Just been given Aunt Matilda's old stamp collection and don't know what to do with it? We can help.

---
Unique Stamp Collecting Bookstore
We have philatelic books in our bookstore you won't find anywhere else on the Internet, including publications from F.D.C. Publishing Co., the U.S. Stamp Society, and John Hotchner.

---
Quotable:
"People love stamps and stamps represent a lot of our culture and our history."


— U.S. Postmaster General Patrick Donahoe
---
Last Updated July 28, 2014

---