Suspending Disbelief

Columnist John Hotchner wonders if some of the U.S. Postal Service's actions today might actually be good for philately tomorrow.

---


Our 2014 U.S. Stamp Program is now online.



Report: Batman 75th anniversary stamp this summer.



Confirmed: Janis Joplin, Jimi Hendrix Music Icon stamps.



Our U.S. 2014 blog section is now indexed through the stamp program page.
---
Israel's First 2014 Issues
The Gerbera flower, Resistance Radio, Geology, Landmarks, and a joint issue with Malta. Details in our new Israel 2014 section.
---
Britain's 2014 Stamp Programme
Horses, films, prime ministers, the Great War of 1914 and Royal Mail will be playing the Palace. Details here.
---
Britain Honors Alec Guinness, Dylan Thomas
They're two of the subjects of the new Remarkable Lives set. Details here.
---
Canada's 2014 Stamp Programme
The subjects range from Shania Twain to the original six NHL teams to Haunted Canada. Details here.
---

U.S. Stamp Program Leaks — Again
VSC's Lloyd de Vries says the U.S. Postal Service doesn't need plumbers, but some candor.

---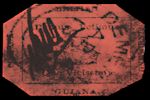 Stamp Superstar To Be Sold
John du Pont's One-Cent British Guiana Magenta will be auctioned by Sotheby's. One estimate puts the price at $10-20 million. More details here.

---
Postal Museum's Ganz To Retire
She also receives one of the Smithsonian's top honors. Details here.
---
Another Record Loss For USPS
Agency loses $354M in first quarter. First-Class Mail is off another 2.6%. Details here.
---
Looking for Delphi's Stamp Collecting Forum?
Click here to reach it.
And here's the reason for the change.
---
Jenny "Unvert" Sold For $25,000
One of the $12 souvenir sheets with the upside-down airplane rightside-up has been sold for $25,000. Details here.
---


Written On A Magic Slate
And as the previous item shows, you can't tell the players without a scorecard, and your scorecard for the ever-changing U.S. stamp program is here!

---
Latest Scott numbers: Updated January 11th, and now here:
---
Lloyd's Fun FDCs!
Volume 44 - Souvenirs
A Flag for All Seasons souvenirs from APS StampShow and AFDCS' Americover.

---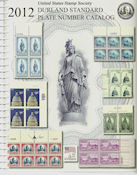 Durland 2012 is Here
New books from the U.S. Stamp Society include this definitive reference for U.S. plate numbers, as well as the new "United States Savings Stamps." Order them online here.

---

"Help! I just inherited this stamp collection!"


Just been given Aunt Matilda's old stamp collection and don't know what to do with it? We can help.

---
Unique Stamp Collecting Bookstore
We have philatelic books in our bookstore you won't find anywhere else on the Internet, including publications from F.D.C. Publishing Co., the U.S. Stamp Society, and John Hotchner.

---
Quotable:
"This is the superstar of the stamp world."


— David Redden, Sotheby's
---
Last Updated April 18, 2014

---