Half a Loaf of Stamps Is Better Than None
We didn't get the entire program for next year, but enough to get collectors and cachetmakers started. Details are here.



More of the designs are now being released, including USS Arizona Memorial Express Mail.
---
Britain's 2014 Stamp Programme
Horses, films, prime ministers, the Great War of 1914 and Royal Mail will be playing the Palace. Details here.
---
Canada's 2014 Stamp Programme
The subjects range from Shania Twain to the original six NHL teams to Haunted Canada. Details here.
---


Written On A Magic Slate
And as the previous item shows, you can't tell the players without a scorecard, and your scorecard for the ever-changing U.S. stamp program is here!

---
Latest Scott Numbers - Updated December 2nd
---
SpongeBob Postcards
The Nickelodeon kids' channel and the U.S. Postal Service are teaming up on a campaign to get kids to write letters. Details here.
---
Top Auctioneer: Drop The FIP
Respected U.S. auctioneer Scott Trepel is calling for reforms in the International Federation of Philately and for the next U.S. International stamp show to sever its ties with the FIP. Details here.
---
They're Just Wild About Harry
The U.S. Harry Potter stamps are out, although only in a few post offices, and appear to be selling well. VSC had the first look at the designs, and comments from philatelist fans and detractors here and here.


---

Poor History Students
Harry Potter, Jedi Knights and The Simpsons are fine, says VSC Manager Lloyd de Vries. It's the people running the U.S. stamp program he's not so sure about.

---
USPS Loses Another $5 Billion
Productivity and revenue were way up, but that $5.6 billion health benefits payment continues to be a problem. Details here.
---

Past, Present And Future

Some thoughts from John Hotchner, our Dean of Philately, on what stamp collecting does for us.

---
USPS Raises Shipping Rates
But the agency will also offer same-day delivery in some markets. Details here.
---
U.S. Postal Service Seeks 3-cent Rate Hike

If approved, it would go into effect in January. More details here.

---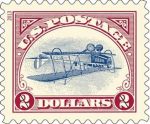 U.S. Rights A Wrong
A handful of its new Inverted Jenny Reprint souvenir sheets were produced with the airplane rightside-up! They're being sold at random to those who purchase the reprint of the famous error, but your chances of getting one are less than one in 22,000. Details here.
Radio spot here.

---
Lloyd's Fun FDCs!
Volume 44 - Souvenirs
A Flag for All Seasons souvenirs from APS StampShow and AFDCS' Americover.

---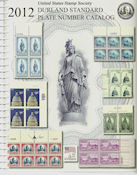 Durland 2012 is Here
New books from the U.S. Stamp Society include this definitive reference for U.S. plate numbers, as well as the new "United States Savings Stamps." Order them online here.

---

"Help! I just inherited this stamp collection!"


Just been given Aunt Matilda's old stamp collection and don't know what to do with it? We can help.

---
Unique Stamp Collecting Bookstore
We have philatelic books in our bookstore you won't find anywhere else on the Internet, including publications from F.D.C. Publishing Co., the U.S. Stamp Society, and John Hotchner.

---
Quotable:
"I would support ... a total ban on FIP patronage [for New York 2016]. Who needs them? We could put the money they consume to better use."


— Scott R. Trepl, President, Robert A. Siegel Auction Galleries.
---
Last Updated December 7, 2013

---