Free First Day Covers!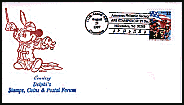 We gave away these first day covers for the Stars & Stripes Forever stamp with a rubber-stamped Delphi cachet -- FREE just for the asking! All it took was to join us in the Forum, where we posted instructions on how to request one of them.

They're gone now, but keep in touch in our Message Board... because it's just a matter of time until the next Delphi first day cover!
---
Return to Stamps Home Page